On an average Tuesday at Sardi's, playwrights, producers and theater owners are sprinkled across the expansive dining room enveloped in deep red.
They lunch on salads paired with wine, but their eyes maintain a constant connection to the door.
Lunches turn to dinner as Broadway's power players flit from table to table at the upstairs bar, discussing incoming shows in semi-hushed tones. The hum of conversation is punctuated by the rattle of cocktail shakers.
Sardi's provides not just conversation and cocktails, lunch and lounge, but, to those in the know, it can be a ticket into the Broadway industry.
First, however, one must know where to sit.
In the dining room of Sardi's, tables are not only numbered, but assigned to specific people.
Many tables have timeshare arrangements, such as Table 7, which has a few diners who work around each others schedules. That means that Victoria Cairl, senior vice president at Show-Score, will never book a lunch on a Wednesday afternoon, the preferred date of producer Stacey Mindich.
"It's a gentleman's agreement between strangers," Cairl said.
Table 4, a two-top, is shared by about a dozen people. The popularity comes from the table's location, a prime spot to see and be seen, and its history — Elizabeth Taylor and Richard Burton would sit at that table every night during the run of "Camelot," according to Sardi's co-owner Sean Ricketts, the grandson of longtime proprietor Vincent Sardi Jr.
When conflicts arise, Ricketts tries to tactfully suggest other tables or, if necessary, will cede to the power player of the table — often the person who has a show running.
Preferences change based on the lunch companion. One Shubert executive prefers Table 25 for more secretive conservations and Table 41 for when being seen is as important, if not more, than the conversation itself.
Years ago, the prime seating location at Sardi's was the front left side of the restaurant, because "it was the power," Ricketts said, meaning that's where Shubert Chairman Gerald Schoenfeld sat.
Now, the prime spot is on the right.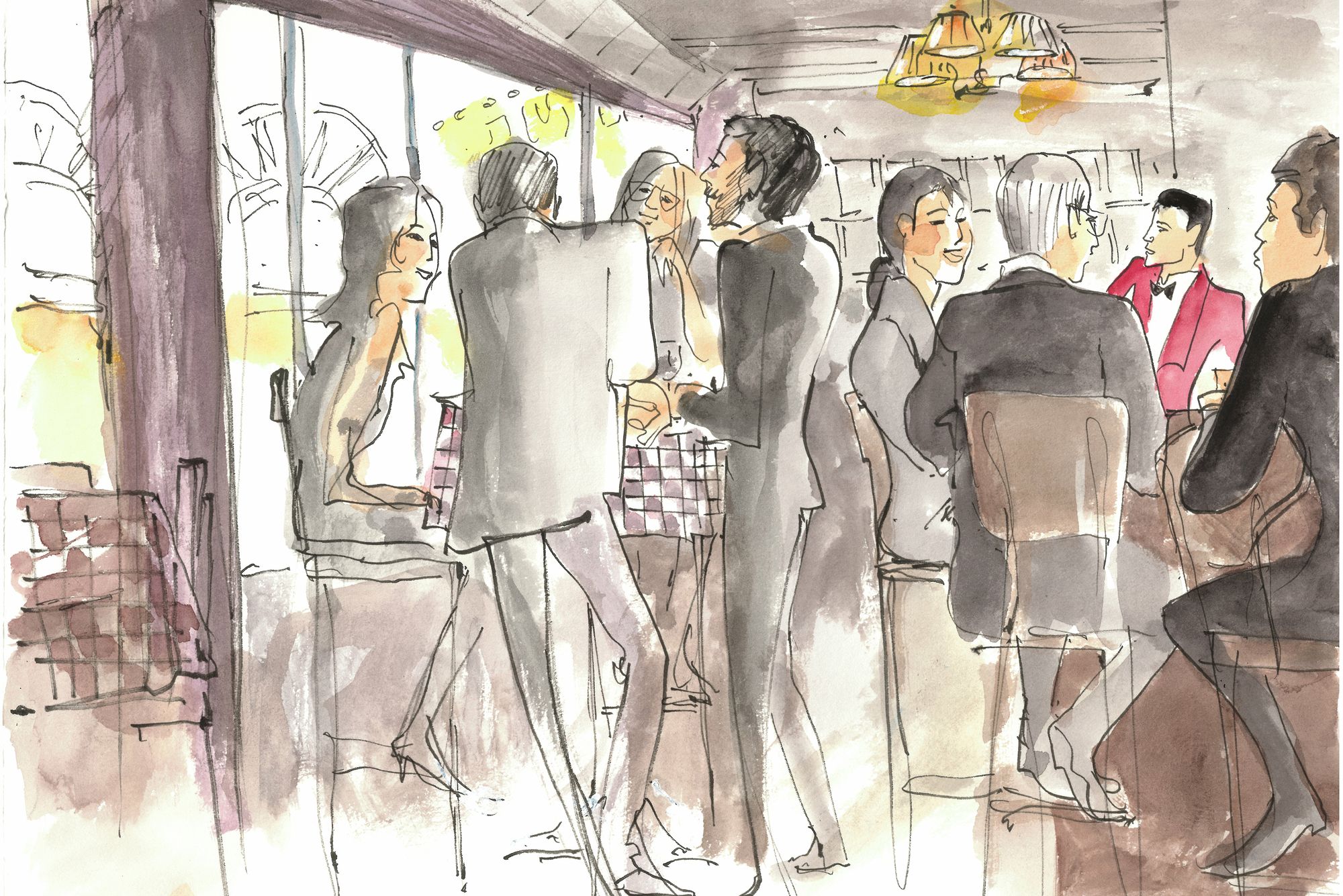 A business lunch
Seated in the front right corner of the restaurant, Shubert President Robert Wankel lunches on a bistro salad with steak, a go-to meal during his two to three visits a week.
These visits are partly out of convenience, as Wankel's office is across the street, but they also serve as an extension of doing business on Broadway. Shows are booked over lunch and deals are toasted after contracts and theater locations have been finalized.
"We've celebrated lots of deals here," Wankel said.
The "we" includes most of the Shubert Organization, as many of its executives have their own tables and up-and-comers in the company frequent the bar upstairs. This has led to the nicknaming of Sardi's as "The Shubert Cafeteria," which is fitting as the company is also the landlord of the building and has many of its offices there.
"We have a very good relationship with them and we are the landlords, so we have to have a good relationship," Wankel said.
On a Thursday afternoon in March, Shubert Chairman Philip Smith sat at his own table, intentionally close by, but also intentionally far enough away to be out of earshot.
"You don't want them next to each other, because they're probably talking business, but you want them to wave and say 'Hello,'" Ricketts said, explaining the important balance of placement within the room.
The table regulars have ranged from producer David Merrick, who took a liking to Table 1 later in his life, to Bill Herz, perhaps the restaurant's most loyal customer. Herz, a crew member on the original "War of the Worlds" broadcast, frequented Sardi's from age 16 until he passed away at age 99.
How do you acquire such a table? "It's friends and family," Ricketts said.
When pressed, Ricketts says the "friends and family" treatment is given to those who exercise good manners.
"I'm Switzerland. I really don't care who you are," Ricketts said. "If you're nice to me, I'm nice to you."
Ricketts looks out for future regulars, a position he encourages by memorizing drink orders and circling the red-and-white checkered tables on the second floor around cocktail hour to chat with patrons about business affairs and personal aspirations.
Victoria Cairl was selected by Ricketts for a table after years of coming to the bar at least once a week, and bringing in friends and clients who felt they were "getting a piece of Broadway" by being there.
"He wanted me to start bringing in more people, the next generation of Broadway," Cairl said.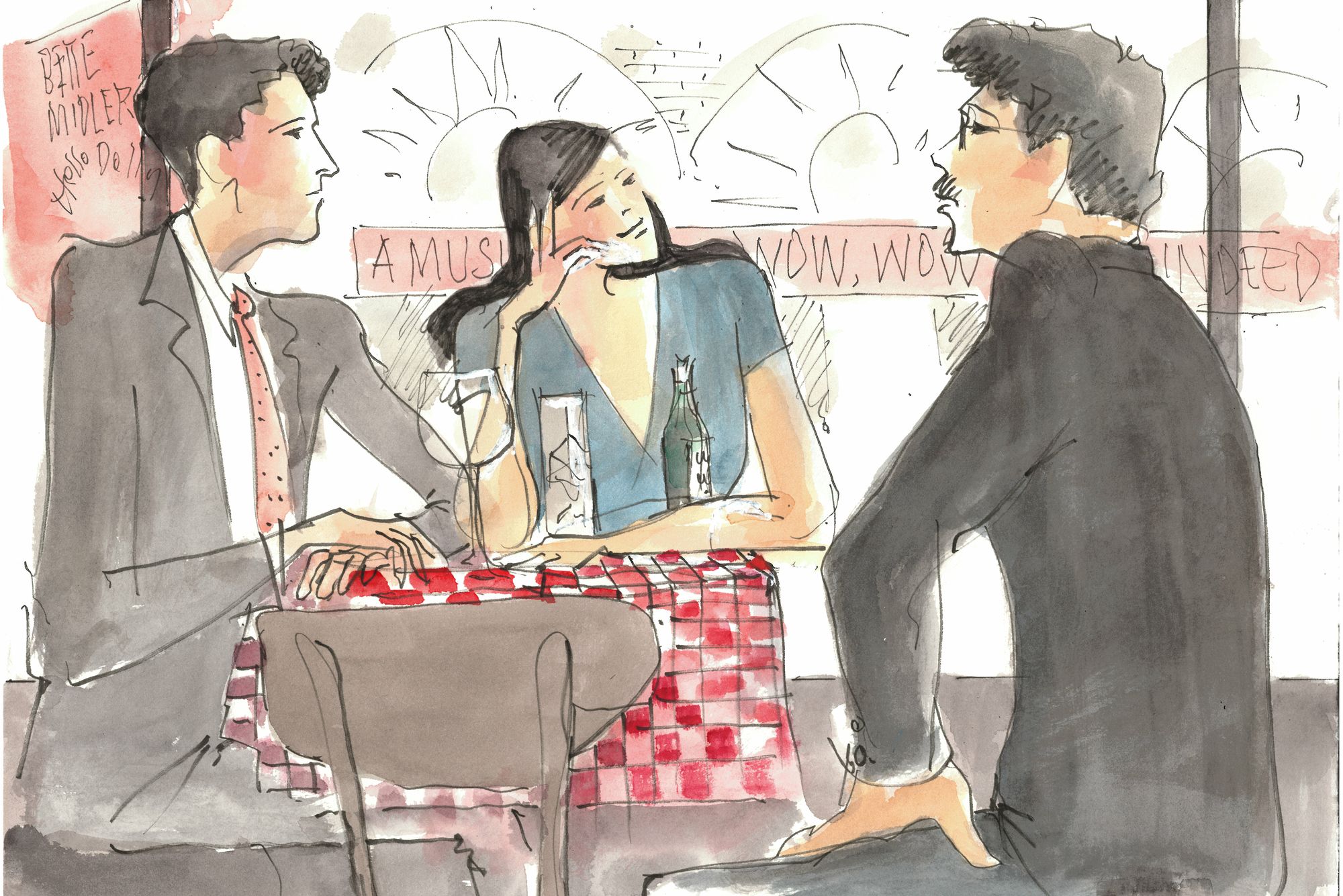 The tradition carries on
During the midcentury, producers and industry members flocked to Sardi's to show off their successes and celebrate openings, with copies of The New York Times flying through the doors as soon as the reviews came out.
Mirroring a tradition that once included the likes of Rodgers & Hammerstein, producer Nelle Nugent would go to Sardi's to commemorate career milestones, such as when she and her producing partner, Elizabeth McCann, received positive reviews for the 1977 production of "Dracula," the first show they produced under their own names. They entered the dining room to a round of applause.
Nugent first came to Sardi's in the mid-1960s while she was working as a Broadway stage manager because Vincent Sardi Jr. "provided a really warm atmosphere for all of us tacky show folk."
Now lunch meetings are shorter than they used to be — "Nobody drinks three martinis anymore," Nugent says — and Sardi's is not the only theater spot in town. But tradition still leads producers to frequent the bar before an opening night and to watch the dimming of Broadway marquees from the second floor windows.
In fact, the history entrenched in Sardi's, and showcased through the framed caricatures of actors, directors and producers that line the walls, has helped lead to its recent renaissance with young industry members.
"It's hallowed ground," said Mike Karns, chief executive of social media firm Marathon Digital, which works on Broadway shows and other live entertainment.
As Karns notes, everyone once had a mentor or an employer introduce them to Sardi's, and then they returned on their own, in the hopes of following in their footsteps.
"We want to be a part of that," Karns said. "We want to know that we're sitting in the same place that David Merrick sat."
Another draw for young producers and creators is the sheer number of industry members together in one spot. As Karns found in the early days of his business, one meeting at Sardi's could often turn into three, particularly when it came to conversations around the second floor bar.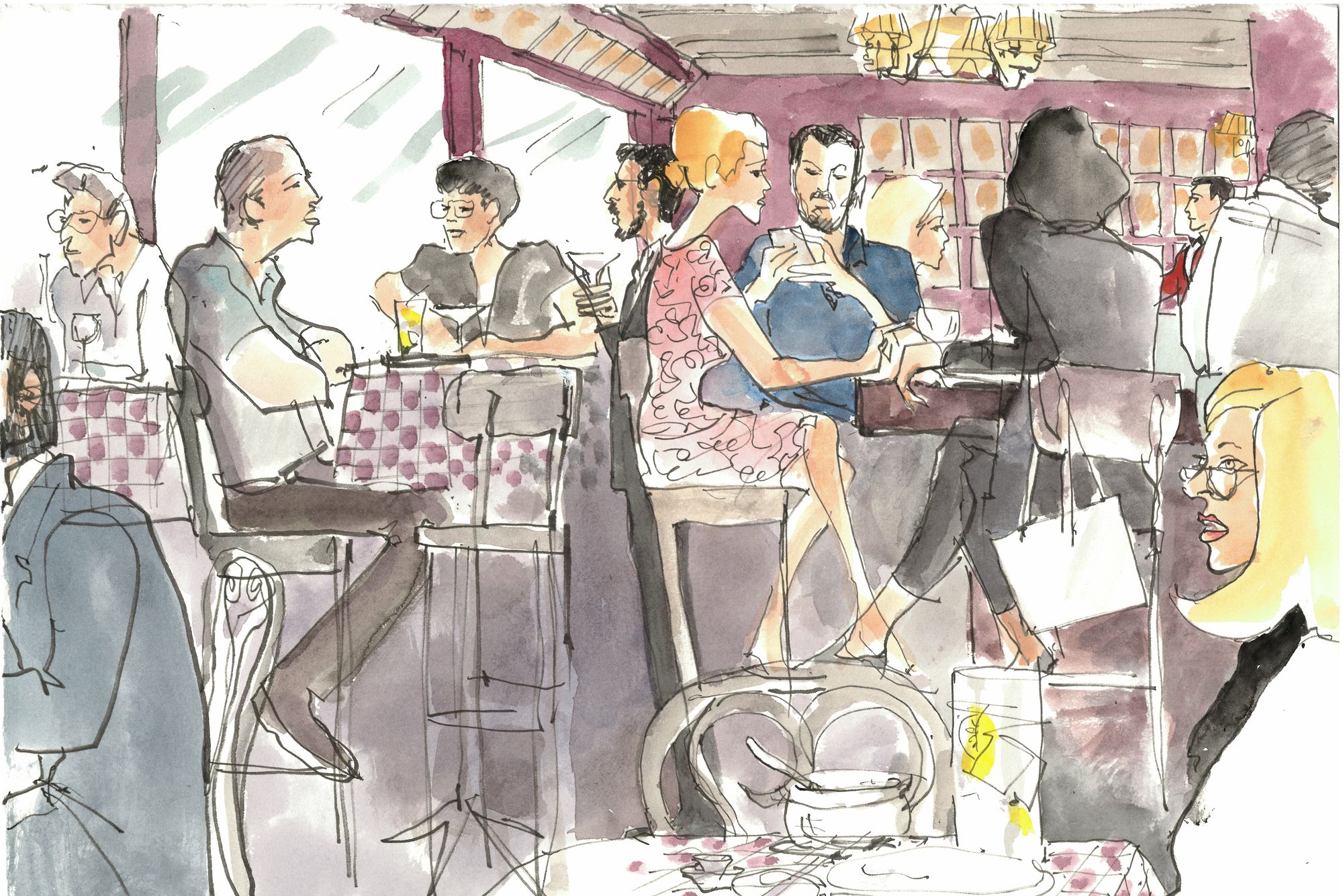 Cocktail hour
When producers Sue Frost and Randy Adams walk up to the second floor, the bartender wordlessly prepares a bone-dry vodka martini with olives and a Tanqueray and tonic, the respective drinks of choice for the producing team.
Frost and Adams began coming to Sardi's together after their musical "Memphis" opened in 2009 because they could see the show's marquee and take in the crowds from the big windows near their table.
This is a common hobby among producers, including Scott Rudin, who would often sit in a booth with a view of the Shubert Theater, the former home of "Hello, Dolly!" (he is also credited for bringing back the tradition of Sardi's opening night parties, which included the bash for Bernadette Peters when she joined "Dolly") and Thomas Schumacher, president of Disney Theatrical Productions, who can spy the "Frozen" marquee. The tradition dates back to Michael Bennett, who used to sit in the corner booth on the second floor, overlooking his show "A Chorus Line," according to Wankel.
But it's not all about people watching.
Frost and Adams often stop by the bar before dropping in on their show, "Come From Away," or after marketing meetings, where the conversations can spill over to the bar setting.
"Sometimes we get some of our best ideas here," Adams said.
Brisa Trinchero, and many others, view the alley-like second floor bar area as a second office.
After moving to New York with the goal of becoming an investor in Broadway shows, Trinchero found she could meet theater owners and other luminaries at the Sardi's bar and began taking most of her meetings there.
"It levels the playing field," Trinchero said.
Over the past decade or so, casual conversations at Sardi's have led to more formal meetings and Trinchero's subsequent investments in "Pippin," "Beautiful," "The Band's Visit" and "Hamilton," among others.
Trinchero has been able to raise money to go toward her own investments from theater fans she happened to meet at the bar.
Frost and Adams use the second floor to their advantage, making sure the waiters and bartenders have seen "Come From Away," so they can recommend it to tourists and other patrons who stop by.
Beyond its business advantages, there's a reassurance that comes with visiting the same spot every week, where the red-coated bartenders recognize regulars and where there's a history of producers and stars coming to drown their sorrows and celebrate victories.
"Everyone's got a habit," Ricketts said.
As if to underscore the point, midway through drinks, the marketing director on "Come From Away" presumptively texts Frost: "Are you at Sardi's?"
Illustrations by Joan Chiverton.