In response to a statement from "West Side Story" supporting cast member Amar Ramasar, protesters vowed to return louder and in greater numbers than before to speak out against his casting.
The musical issued a statement Thursday saying that the production intends to keep Ramasar, who plays Bernado, in its cast indefinitely. Protestors have been gathering outside the Broadway Theatre for four consecutive weeks calling for Ramasar's removal, after he allegedly sent and received explicit photos during his time at New York City Ballet.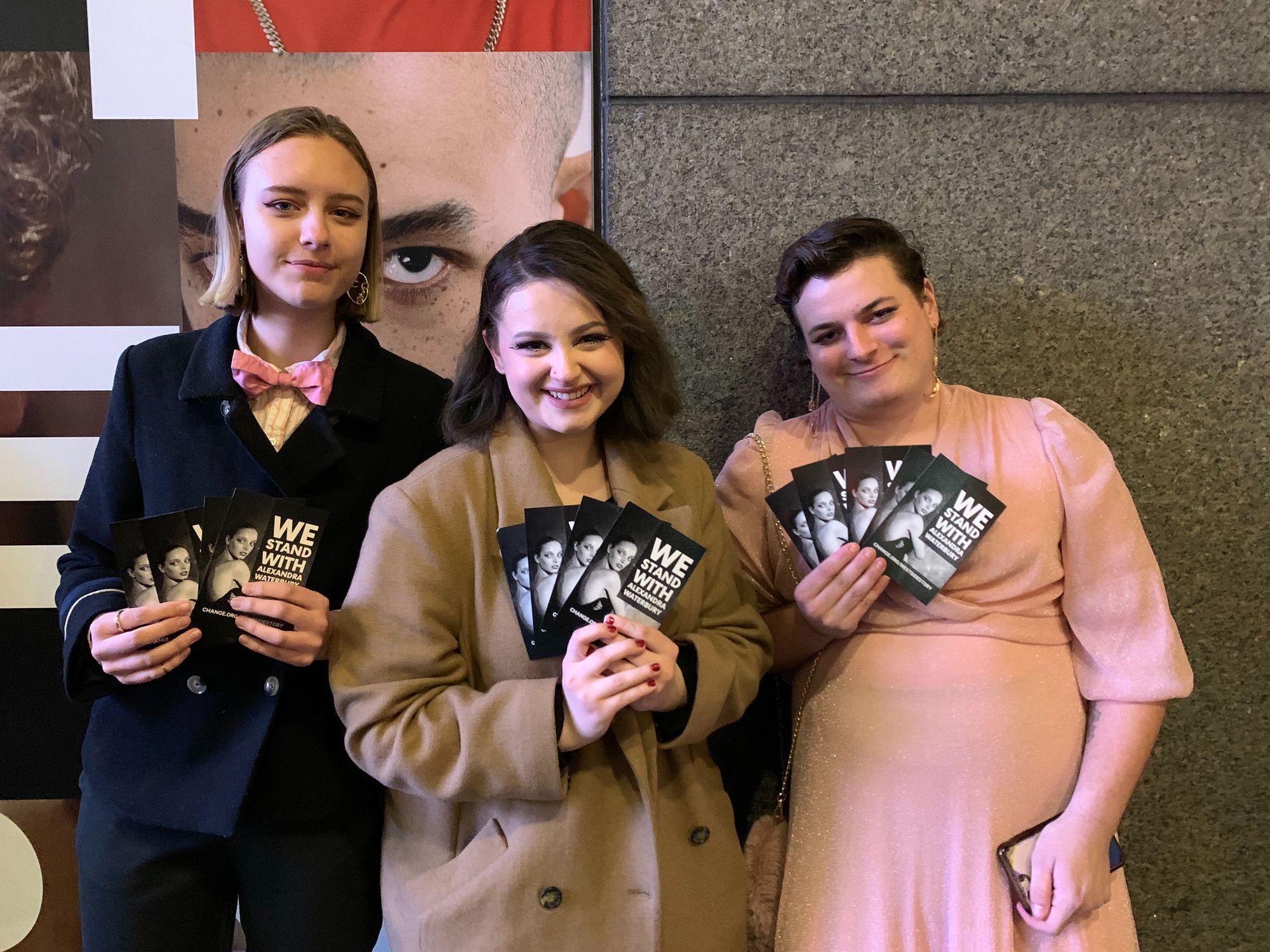 Ramasar is named in a lawsuit filed in September 2018 by former ballet dancer Alexandra Waterbury. She alleges that Ramasar participated in a group that shared nude photos of ballet dancers without their permission. The lawsuit is ongoing in New York Supreme Court.
Led by Waterbury, a group of about two dozen gathered directly in front of the Broadway Theatre marquee Thursday evening, holding signs including "Hold men accountable" and yelling slogans including "What do we want? Amar gone. When do we want it? Now." The group, which has grown to include high school students, college students, theater performers and others, had been particularly energized by the statement from the production.
"Tonight, I'm especially angry, but it's great to see so many familiar faces out here," Waterbury told Broadway News.
In addition to vowing to employ Ramasar, the statement noted that the "the alleged incident took place in a different workplace — the New York City Ballet — which has no affiliation of any kind with 'West Side Story." That particular section drew ire from the protestors.
A group of three college students at Marymount Manhattan College, holding cards reading "We stand with Alexandra Waterbury," planned to attend the performance Thursday night to boo Ramasar at the curtain call. In response to the statement about the alleged incident taking place at another location, one student cited the saying "Legality does not equal morality."
"They're choosing not having to take the penalty of firing someone on contract, to keep someone like this in the cast," said Grant Wendt, another student.
The production has also pointed to Ramasar's reinstatement with New York City Ballet, as well as his good standing within Actors' Equity and the American Guild of Musical Artists, the union representing New York City Ballet.
Many protesters, including Waterbury, vowed to return to protest on opening night, Feb. 20, when they noted investors in the production were slated to attend.
"If they feel so right in their hiring of him, then this is the consequence," said Paige Levy, a senior at LaGuardia High School in Manhattan, who has been organizing the protests.
Levy's hope, and that of the group, had been that the production would fire Ramasar before opening night, partly as a result of the protests. But, after the production's statement, Levy, said they have plans to continue protesting after opening night.
"The movement that we've started is going to gain a lot of backers because of it," Levy said.
Mike Jones, who works for a technology company and was protesting with the group outside the theater for a second time, called the statement from the production "unacceptable." He viewed the protest as a way to speak out about inappropriate actions not only in the theater community, but in technology, entertainment and other sectors.
"We're so close to opening day and it's so clear that every week this is just getting louder and larger. I think there's a real moment here to have a conversation about accountability for people who do stuff that I think you can really call predatory," Jones said.