In an uncertain fall on Broadway, consumers flocked to the big brands and returned to favorite musicals.
Even without the traditional tourist audience, "Wicked" and "The Phantom of the Opera" made more this fall than in years past, while "Hamilton" held on to its high-grossing status, according to box office reports obtained by Broadway News. Other musicals and new plays struggled as the industry itself rebuilt.
Broadway News obtained the weekly gross reports for all shows this fall. The reports cover the reopening week of many Broadway shows, Sept. 12, 2021, and run through Dec. 12, just before most of the industry was hit by the Omicron variant. That impact, which has been attributed to the closure of at least five productions and squeezed the finances of many more, is not shown in these numbers.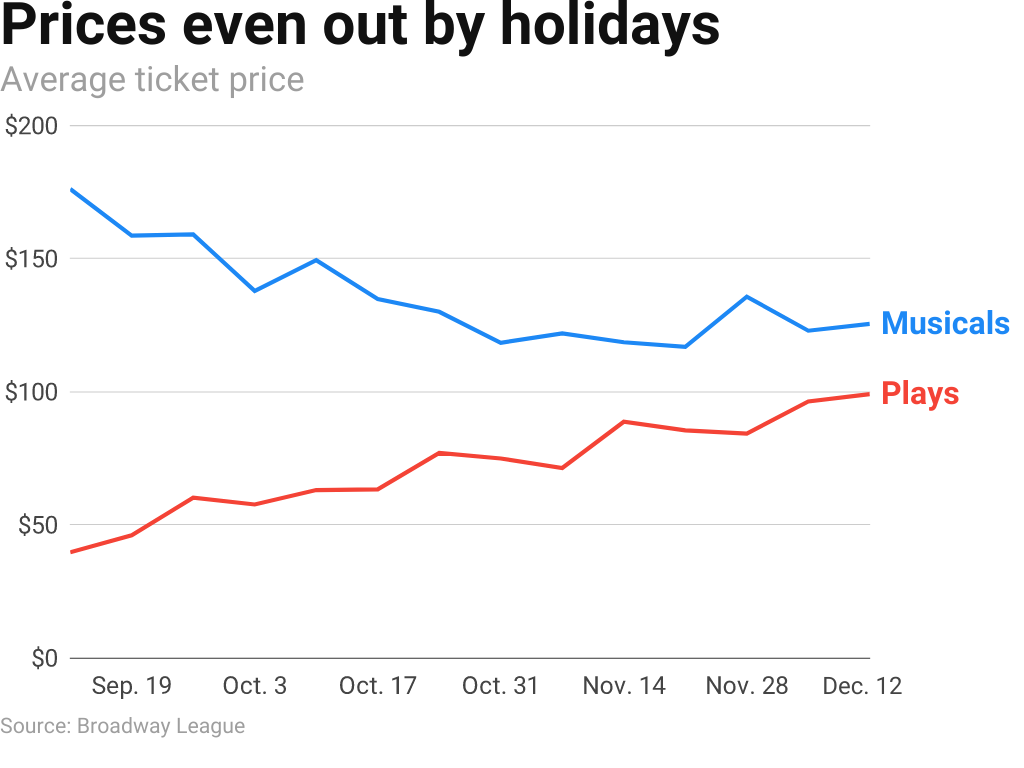 The numbers do show a resilience among many shows in a tough economic environment and hint at the financial position productions had going into the COVID-19 surge.
The Broadway League has traditionally released grosses for individual shows on a weekly basis, but halted the practice this season, due to the staggered roll-out of productions and the fact that several shows played less than eight performances a week. The League released aggregate grosses, a tally of the weekly totals for all shows, to the public starting in late October and distributed the individual grosses to its members in late January.
Here are the takeaways:
High-grossing musicals
• "Hamilton" was the highest grossing show across all 13 weeks, taking in more than $2.6 million almost every week this fall and hitting $3.2 million during Thanksgiving week — blockbuster numbers for most shows, but slightly less than it made per week in fall 2019, the last full season on Broadway.*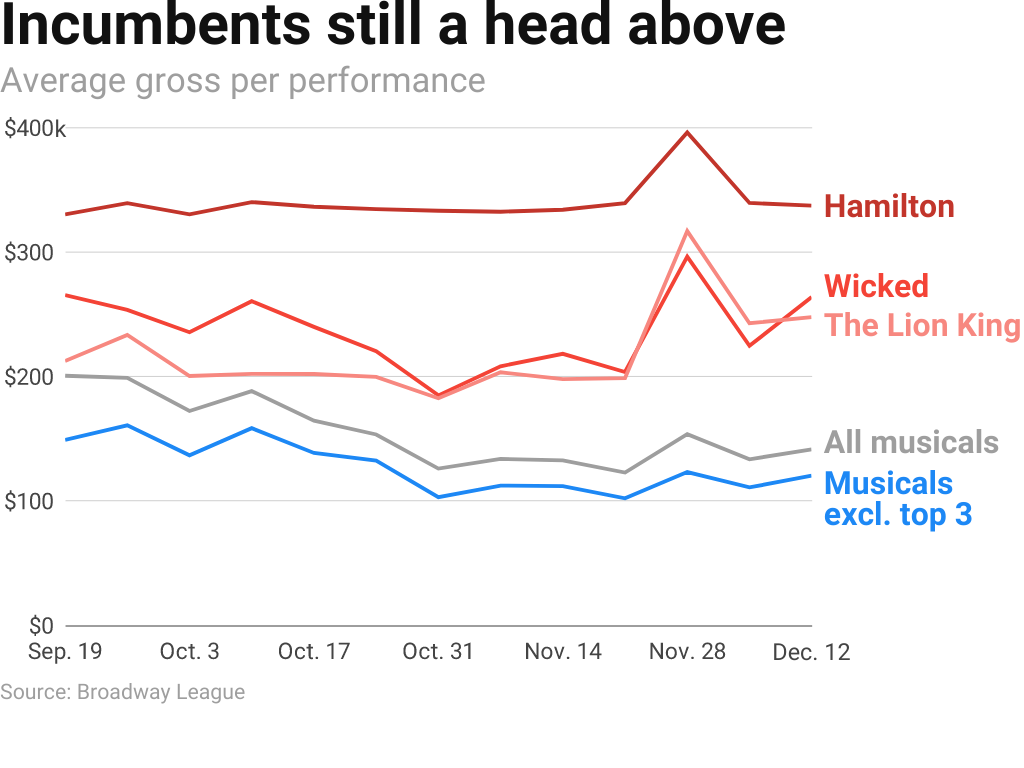 • "Wicked" grossed more this fall than it did in 2019. From Sept. 19 through Dec. 12, 2021, "Wicked" grossed $23.2 million, more than the $21.1 million grossed for the comparable weeks in 2019. The production made more this past Thanksgiving week, at $2.4 million, than it did for Thanksgiving week in 2019, at $2.2 million.
These numbers come as "Wicked" reported a higher average capacity this season, averaging 97% across the 13 weeks of data, compared to 93% in 2019 and a higher average ticket price of $130 compared to $118.
• "The Phantom of the Opera" made more per week this fall, even while only playing seven performances per week, compared to eight in fall 2019. It played to a higher average capacity of 88% compared to 76% in 2019 and at a higher average ticket price of $109 compared to $93.
• Other high-grossing shows included "Six," which posted an average gross of $1.15 million across the 13 weeks, "Waitress," commanding up to $1.6 million when Sara Bareilles was starring, and "Tina," which reached a high of $1.7 million with Adrienne Warren in the lead role, but continued grossing more than $1 million weekly after she left.
In the middle
• Some musicals faced tougher comparisons. "Come From Away" recorded an average weekly capacity of 79%, which was 20% below its 2019 levels. It grossed an average of $320,000 less per week compared to 2019, even while playing the same number of performances.
The lower grosses at "Come From Away" are partly a reflection of lower ticket prices set by the production this season. The musical has a potential buffer from federal grant money, insurance proceeds and proceeds from the streaming version of the musical.
• "Ain't Too Proud" recorded an average weekly capacity of 75% and an average weekly gross of $784,734 across its regular playing weeks. That's a 49% decrease from its average weekly gross for the comparable weeks in 2019. However, the musical played seven performances a week this fall and eight in 2019. It closed on Jan. 16, following the cancellation of several performances.
• "Girl from the North Country" saw its capacity decrease from 72% to 47% and its grosses fluctuate between a high of $397,648 in its first full playing week and a low of $266,442 in the week ended Nov. 21. The production announced its closure in January, with plans for a spring return.
The plays
It's more challenging to analyze the finances of new commercial plays, due to the lack of comparison to previous years, as well as the anomaly of having so many titles in the fall season.
Many of the show's grosses, however, come in below the typical $300,000 to $400,000 weekly running costs for a play. And those running costs increased this season due to COVID-19 testing requirements and other health measures.
• On the lower end, "Chicken and Biscuits" recorded average weekly grosses of $143,534 and average paid admission of $45, alongside diminishing audience numbers. The play closed on Nov. 28 after the cancellation of several performances due to COVID-19 cases in the company.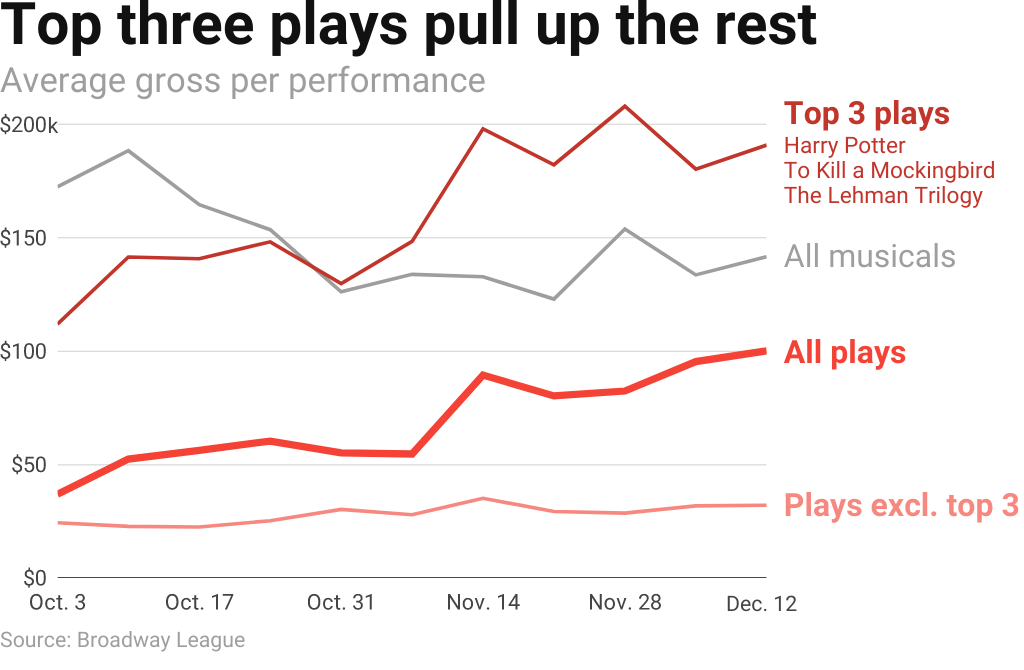 • "Dana H." and "Is This a Room," which shared running costs and each played less than eight performances per week, recorded weekly grosses of about $40,000 each in the early weeks of the run. The two shows then saw increased capacity and a jump of about $80,000 each the week after the productions announced an impending closure.
• "Thoughts of a Colored Man," meanwhile, reported an average weekly gross of $325,404 across 10 weeks of data, alongside an average capacity of 71%.
• Three plays, "Harry Potter and the Cursed Child" "To Kill a Mockingbird," and "The Lehman Trilogy" pulled up the averages. "Harry Potter and the Cursed Child" and "To Kill a Mockingbird," which reported average grosses of $1.5 million and $1.3 million respectively, and "The Lehman Trilogy," with an average of $848,218, were among the top tier of grosses for all productions, bringing in more money some weeks than all but the highest grossing musicals.
• Like the top musicals, "Harry Potter and the Cursed Child" grossed more this fall than in 2019, even while only selling one ticket to its trimmed down one-part production rather than two.
• "To Kill a Mockingbird" showed strong sales and attendance throughout its fall run and increasing numbers as it got closer to Christmas. However, these totals came with a lowered ticket price range this season, leading to a lower gross potential.
In January — after the departure of lead Jeff Daniels and the impact of Omicron — the play announced a five-month closure and a move to the Belasco Theatre in June.
*Comparable weeks were calculated by aligning the grosses for Thanksgiving week 2021 to the grosses from Thanksgiving week 2019 and then moving backwards chronologically.