This season, Broadway was populated by silver-tongued deities, a triumvirate of Chers and a band of edgy ranchers, to name a few.
Some of this season's roles were written with specific actors in mind, making the transition from real-life to the stage somewhat seamless, while others required the actors to dig into aspects of their personalities that had been hidden from view.
Broadway News spoke with several of this year's Drama Desk nominees about how they morphed into the characters that made up this Broadway season.
André De Shields
Hermes in "Hadestown"
How did you find your way into the character? Was there a certain access point for you?
De Shields: I am the access point into my character as Hermes. Because as the storyteller, as the character who is responsible for keeping the oral tradition, Hermes has to speak beautifully. And when you have the task of wearing a beautiful silver suit, you have to walk beautifully. And I do that in my life. It's not a matter of typecasting, as much as it is a matter of taking my personality and inhabiting the character with it.
In 2012, I did the first workshop for "Hadestown." So it was then that I invested Hermes with my DNA. And I also put a boomerang in him so that eventually it would come back to me. It took seven years, but you know how boomerangs do.
How do you keep the oral tradition alive?
De Shields: Do you know the term griot? Griot is borrowed from French West Africa. Griot is the character who must keep the oral history of the individual family, the community, the tribe, the nation. As a performing artist, the important part of our craft is memorizing and then using the oral tradition to entertain the audience. So I, in my life, am a storyteller. In my life, I am a keeper of the flame. That's what Hermes is.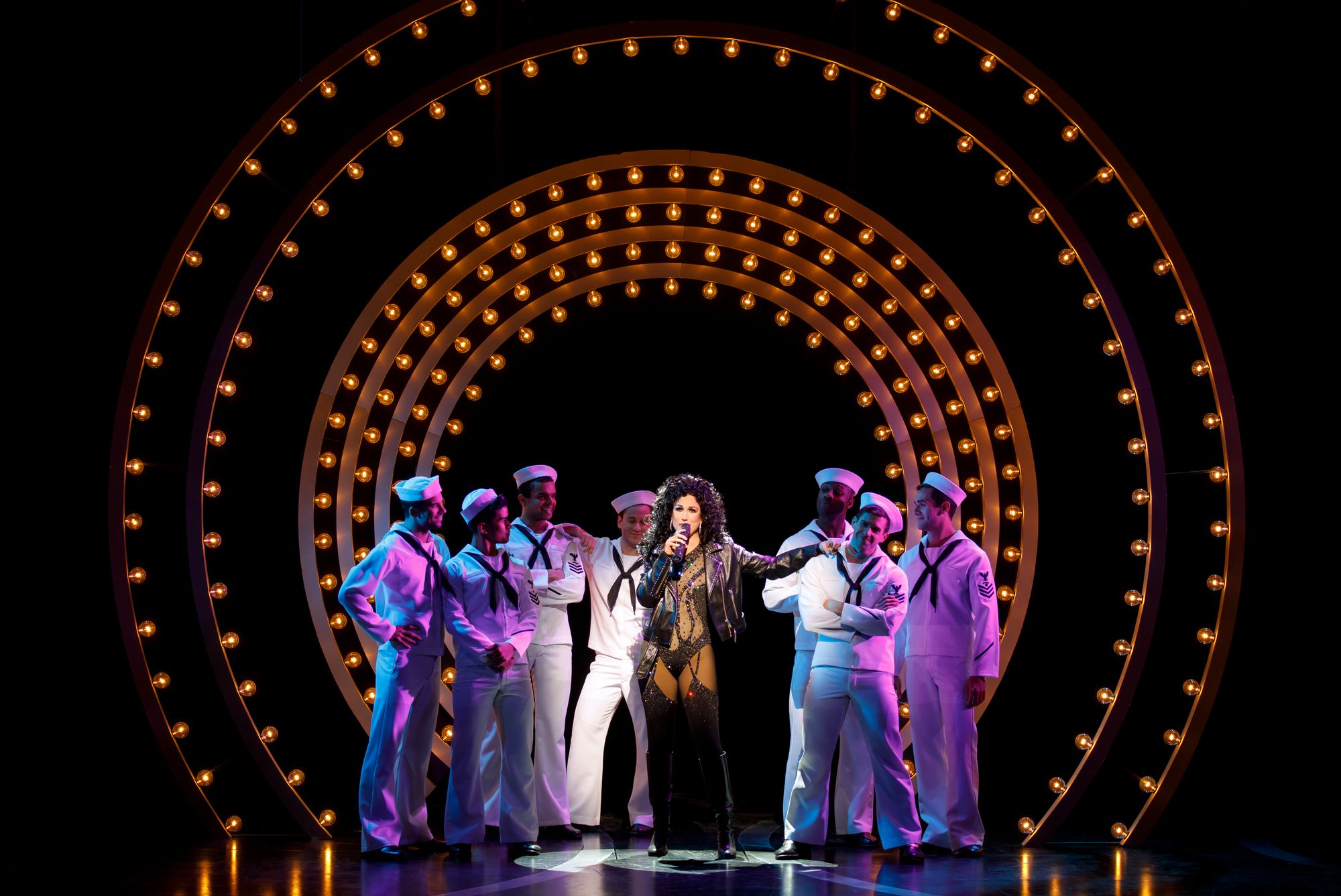 Stephanie J. Block
Star Cher in "The Cher Show"
When were you first approached about the role?
Block: I was first approached back in late December of 2016. I lovingly said no. I was approached again in August of 2017. I lovingly said no. And by September of 2017, I had finally said yes, because of Jason Moore, his vision and the things that we were able to discuss over a dinner table. It made all the difference.
Why did you initially say no?
Block: I had made my Broadway debut playing Liza Minnelli. So I knew the process of bringing to life a living icon. The landscape and the playing field is just different when you're building a character of that nature. I felt like I'd already lived that process and wasn't ready to revisit it, quite frankly. But Rick Elice, the writer, and Jason Moore, the director, made me feel comfortable in knowing that it wasn't going to be something I had done before. I was a different actor. I was a different woman. And it seemed like a challenge I was ready to embrace.
How does it feel to play Cher eight times a week?
Block: It feels strong. It feels empowering. Once you play Cher, there is a kind of don't-mess-with-me demeanor and armor that she puts on. And I've been able to adapt that into my personal life a little more, which has been really remarkable.
Brandon Uranowitz
Larry in "Burn This"
How did you find your way into the character?
Uranowitz: Every time I approach a character, I try to find the things in myself that I know can relate to this character. For Larry, a lot of it was right on the surface. The way he navigates the world; the way he navigates grief; the way he navigates relationships. His humor, which is a very protective suit of armor that he wears, is something that I find myself wearing all the time. It's a thing I built for survival and protection, growing up gay and in the closet. And I think that's true for a lot of gay men who will see this play.
The gay sidekick is sort of everywhere now, but we've moved beyond that. He is a real, live, flesh and blood, breathing human being.
What is it like playing Larry eight times a week?
Uranowitz: It's very freeing. I've loved all of the characters that I've played. I've been very lucky, but I've been playing a lot of straight characters and to be playing a gay man living truthfully and fearlessly as himself is very liberating. It's the most playful and improvisational I've ever felt on stage.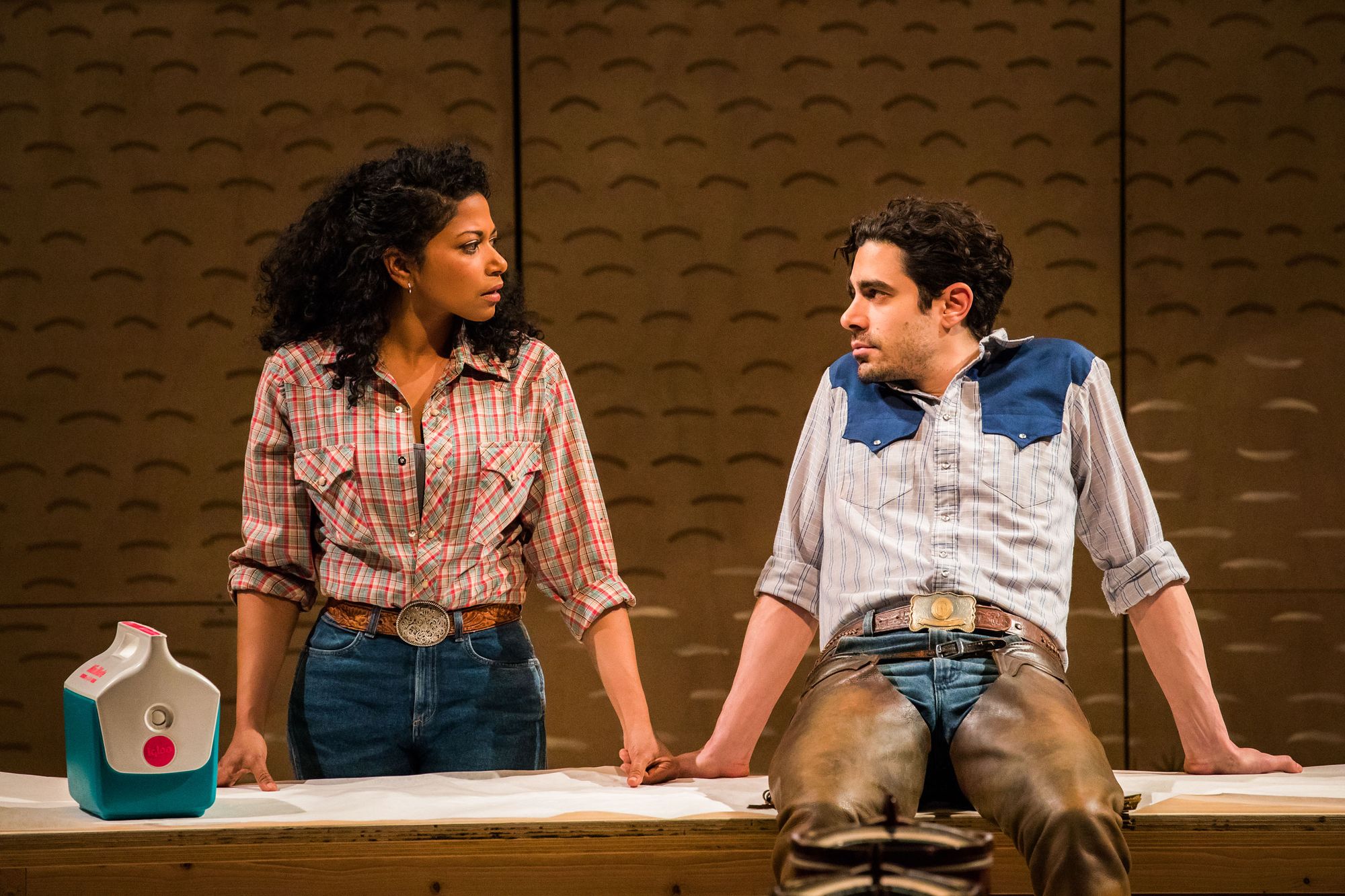 Damon Daunno
Curly McLain in "Oklahoma!"
How did you approach the role of Curly?
Daunno: I approached the role of Curly via the script, the language. I just took it at face value and let go of any preconceived notions of what this character may be or has been, and then collaborated with our director and got a very specific vision for the world he was setting this show in.
How would you describe Curly?
Daunno: He's traditionally played as the smiley hero, but there's really a complex array of behaviors, and there's a real darkness to him. I would describe him as human. He's very passionate about the things he cares for, but he's also deeply threatened by any number of things. So that tug of war between confidence and insecurity is what drives him.
Patrick Vaill
Jud Fry in "Oklahoma!"
When were you first approached about the role?
Vaill: Daniel Fish, our director, came to Bard College when I was a senior in 2007. He was asked to direct something for the students, and he said he'd like to direct "Oklahoma!" And much to my surprise, because I was a 21-year-old and wanted to play something sprightly and fun, he cast me as Jud, my senior year.
How do you decompress from the role? Does it follow you outside the theater?
Vaill: I don't know if it follows me. It probably does to a degree because, you know, the body doesn't realize it's fake. In terms of how I decompress: I wash my face, I do a shot of whiskey and then leave the theater. Then you get on the Q train to go home and that'll knock it out of you. That's its own despair.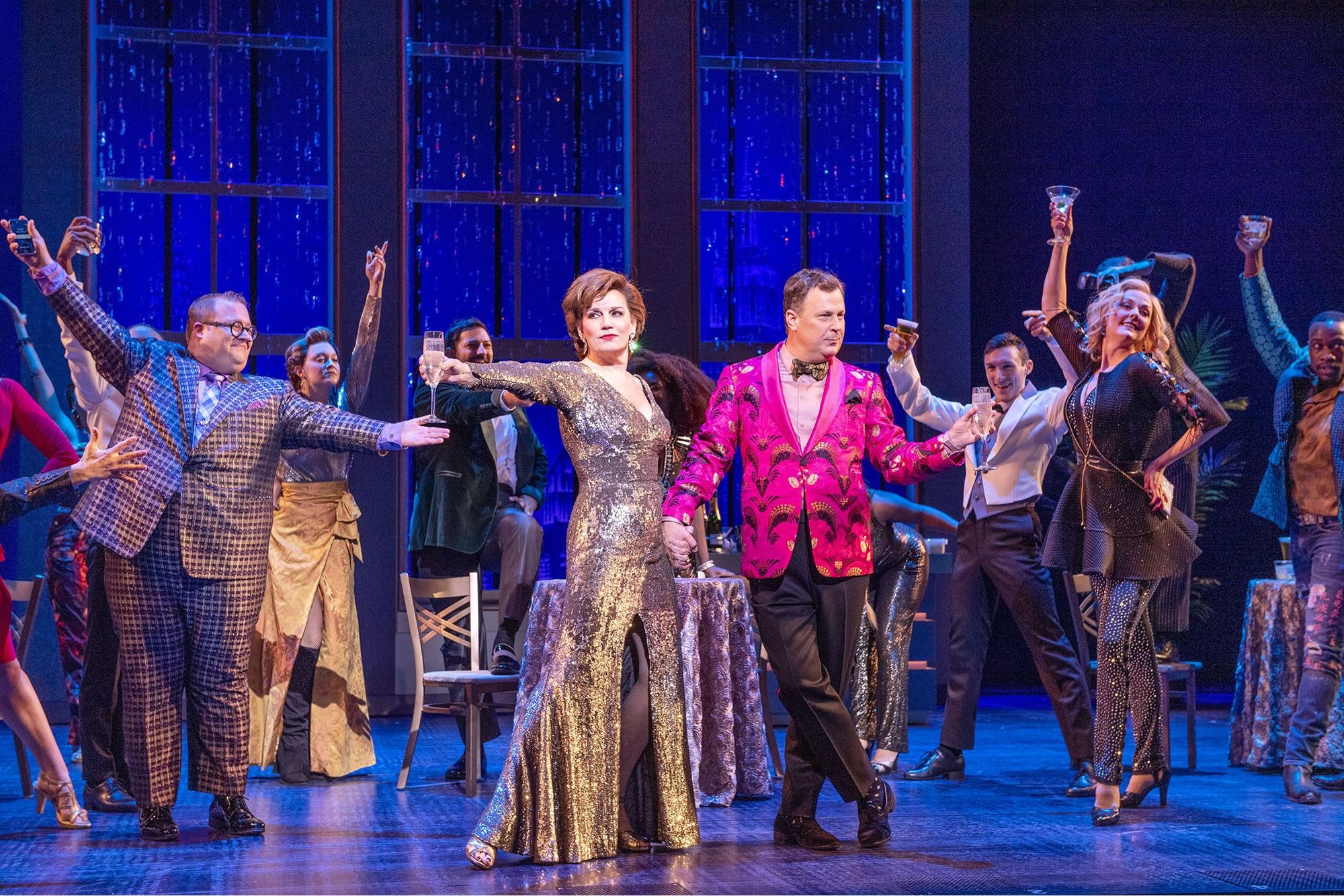 Beth Leavel
Dee Dee Allen in "The Prom"
How did you find a way into this character?
Leavel: Apparently I have a very accessible Dee Dee Allen inside Beth Leavel. I remember them telling me, "Oh yes, we've written this role for you." And I read it, and she was so funny, but she's the biggest, narcissistic, diva, self-centered person I've ever encountered in my life. And it was written for me, which makes me go, "Oh. Wow. Well, thank you so much." And yet it's so easy for me to play. It's so much fun to play someone who's kind of the antithesis of your energy.
What does it take for you to get into character? Can you just go into it?
Leavel: Completely. I put the wig on, do my little rituals and I put this 13-pound sequined dress on. I hear the overture and it's like "Oh she's right there."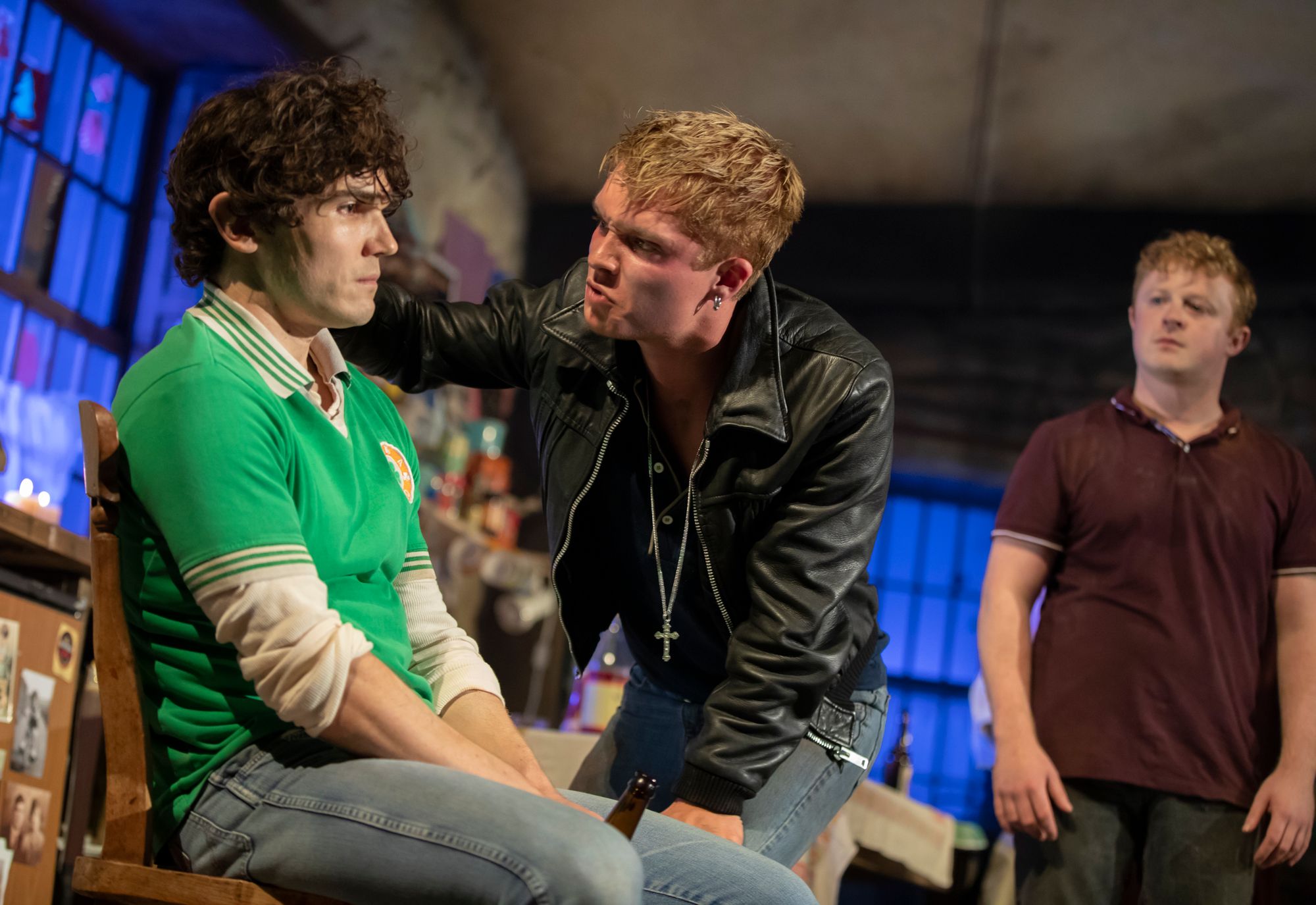 Tom Glynn-Carney
Shane Corcoran in "The Ferryman"
How did you find your way into Shane?
Glynn-Carney: Music was a huge part. I wanted to pick out the songs that I thought Shane would listen to. It was a lot of music from The Undertones, Stiff Little Fingers. All these bands that are funky and loud and sort of boisterous. Electric is the way that I wanted to portray Shane. There is also a deep and dark wringing inside him that I found fascinating. The contradiction between the vulnerability and the total rage and courage of him was something I really wanted to play with.
Were you able to let go of the character once you left the theater?
Glynn-Carney: It was fine at the beginning. But as time went on, it was actually quite tricky to keep him out of my day-to-day life. So, I had to find little ways of separating my personal life and my professional life. I had these little routines: I'd listen to music, and I'd go to yoga. I'd write my music and go for long walks, escape and just breath. It was like, "What are the polar opposites of this man?"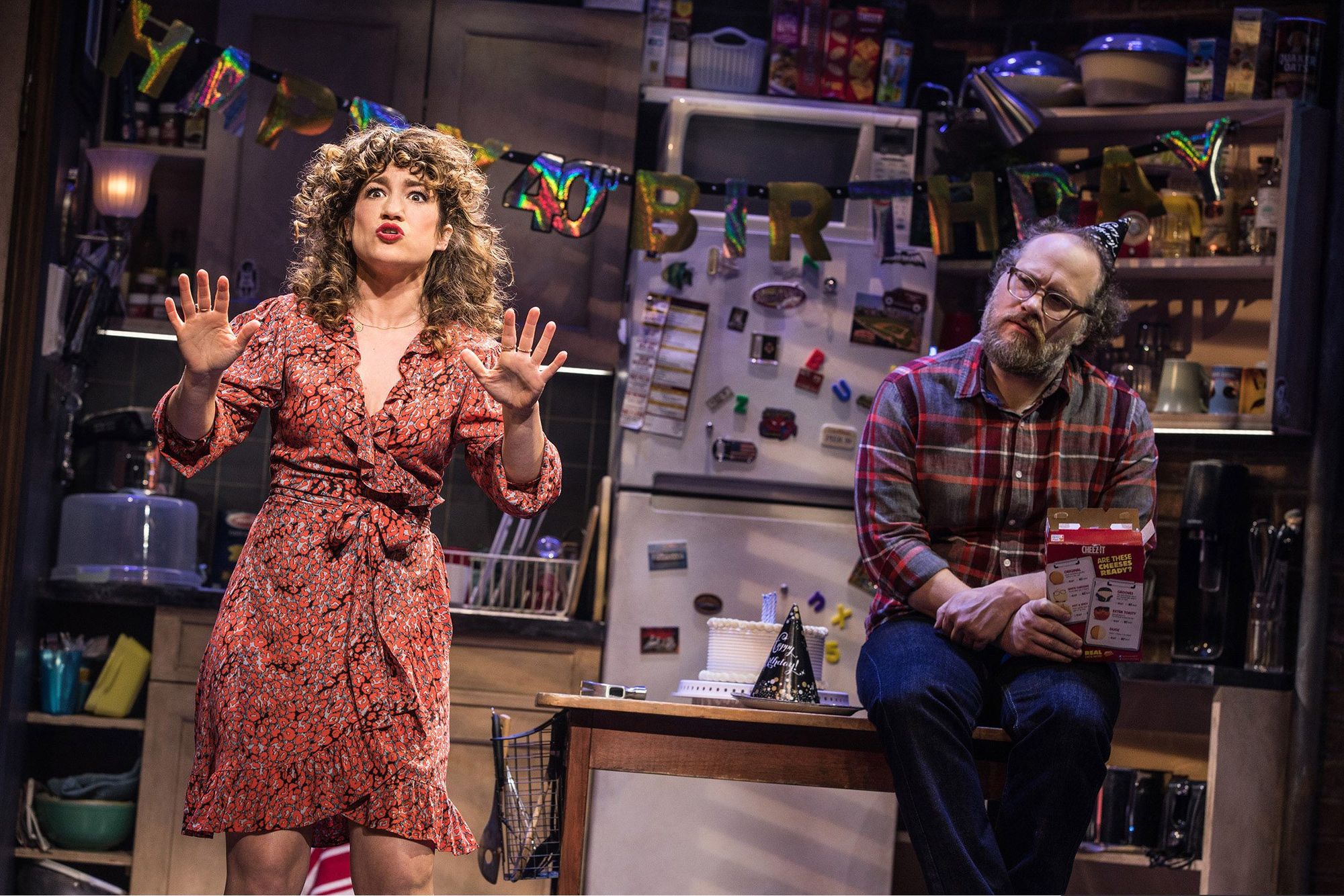 Sarah Stiles
Sandy Lester in "Tootsie"
How did you approach the role of Sandy?
Stiles: I read the script and knew exactly who she was. It was one of those moments where I could hear her. She was jumping off the page at me. And so that was a pretty easy way in. It's just been so juicy and delicious working with Robert Horn. He would email me and go over jokes, and I would get to choose which ones I wanted to do.
How does it feel to live inside Sandy's brain eight times a week?
Stiles: During rehearsals it was actually very overwhelming because to be in that kind of neuroses and anxiety and sort of self-destructive behavior was hard. It made me kind of crazy at times and feel sort of insecure. But I have a great support group, and I'd call my sister, I'd talk to my boyfriend, and they'd say, "OK, that's not you. Those are parts of you, and a piece of what you used to be like, but you're not that girl anymore." And now playing her at night is just complete joy.