The Shubert Organization will begin construction this March on the Cort Theatre, in a project that will see the addition of a five-story annex, as well as improvements to the theater's façade and interior.
The new annex, to be added to the west side of the theater, will include multiple levels of lounges and concessions spaces, accessible restrooms, new dressing rooms, rehearsal spaces and wardrobe facilities. The project will add expanded wing space within the theater, as well a modernized rigging system to allow for larger casts and more technical productions.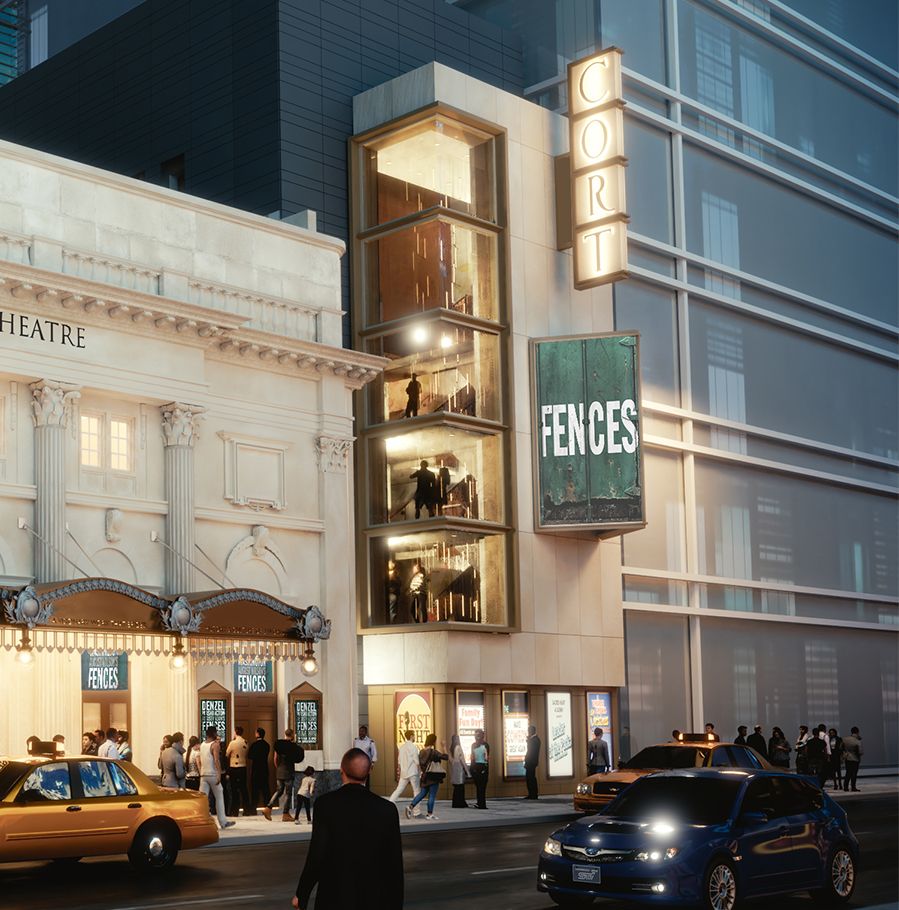 Construction is expected to be completed in 2022, according to the Shubert Organization. Minor prep work on the theater has already begun.
Within the playhouse, the Shubert Organization will add new seating, which includes a thinner profile to the seats and added legroom. The theater's 1,092-seat capacity will remain unchanged.
The Cort Theatre, situated on West 48th Street, was originally built in 1912 by architect Thomas Lamb, a prolific designer of legitimate playhouses as well as movie theaters. It is his only remaining Broadway theater. As part of the construction, the Shubert Organization plans to restore the theater's original proscenium arch, with restorations guided by architect Francesca Russo.
The 35-foot-wide annex will feature a modern design, as part of a plan created by Kostow Greenwood Architects, as well as an LED-video display sign. All of the annex spaces will connect to the main theater.
This is the first large-scale construction project undertaken by the Shubert Organization in decades and a major update to the Broadway landscape. Nearby, the Palace Theatre, owned by the Nederlander Organization, is in the midst of extensive construction, as workers complete the structural preparations needed to lift the theater 30 feet into the air. A retail space is planned for the lower levels.
Ahead of this project, the Shubert Organization sold the air rights above the Cort Theatre in 2017 for more than $41 million. The air rights were purchased by the Rockefeller Group, which owned the parcel of land to the west of the theater. And earlier this year, the Shuberts received approval on a deal to transfer 119,268 square feet, which it will accumulate as a bonus for substantially restoring a theater, to the developers of a more than 40-story hotel behind the theater, according to public records.
The Shubert Organization first submitted for approval for the project from the Landmarks Preservation Commission in 2017. The playhouse was designated as a landmark in 1987.
"The Minutes," which was playing the Cort Theatre before the March 2020 shutdown,  announced in November that it was vacating the theater to allow for the renovations.