A group of protesters gathered outside the Broadway Theatre Friday night to speak out against the casting of Amar Ramasar in the "West Side Story" revival.
Ramasar, who plays Bernardo in the musical currently in previews, has been accused of sharing explicit images of female ballet dancers without their permission during his time as a principal dancer with New York City Ballet.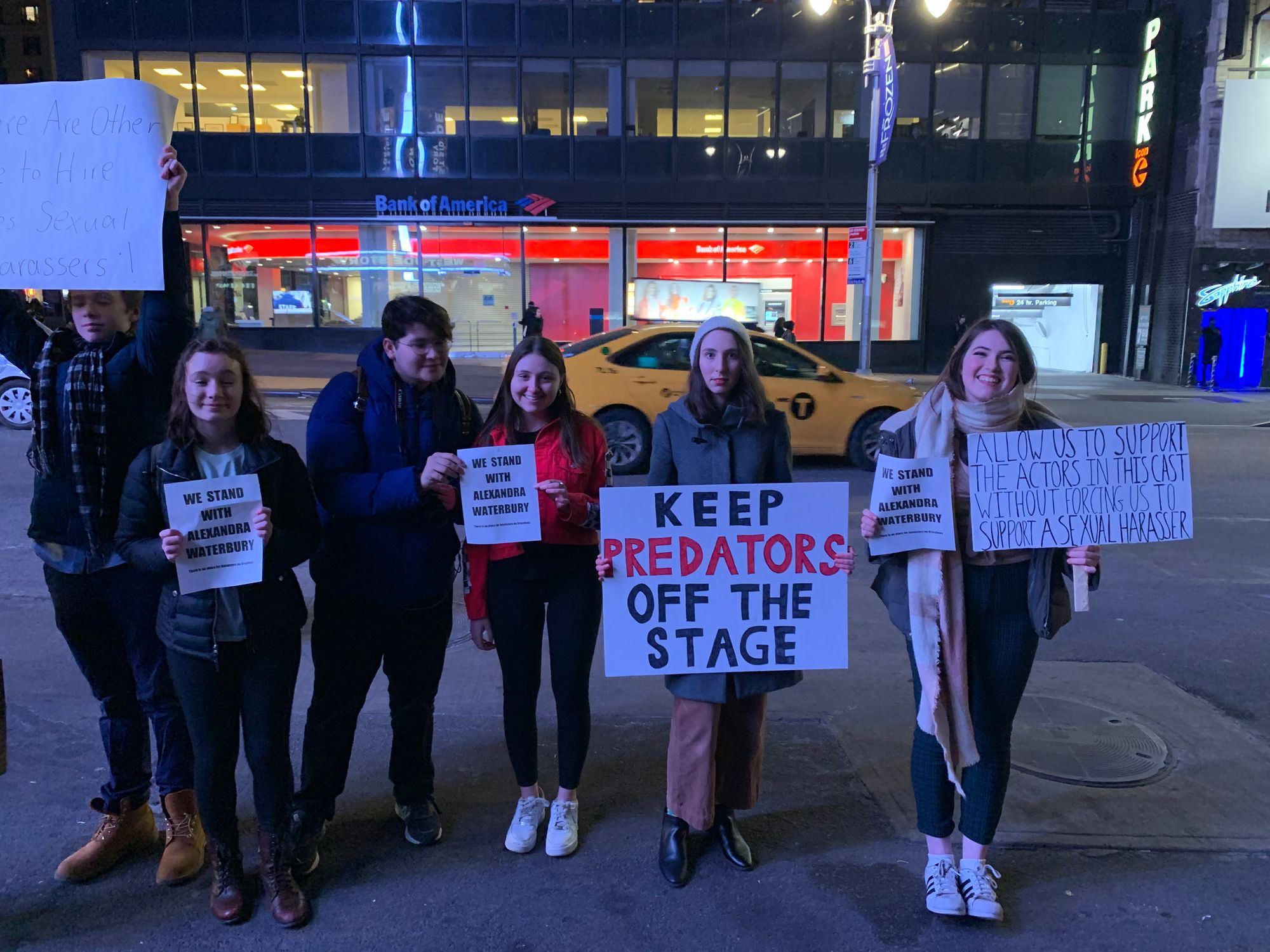 One of those female dancers, Alexandra Waterbury, brought these allegations forward in September 2018 after filing suit against her former boyfriend, Chase Finlay, and other dancers at New York City Ballet, including Ramasar. Waterbury alleges in her suit that Finlay had sent unauthorized nude images and videos of her to Ramasar and others, who sent back illicit images of other women in exchange.
Ramasar and Zachary Catazaro, another dancer reportedly involved, were fired from the ballet in September 2018. Finlay had already resigned. Ramasar and Catazaro were reinstated to the New York City Ballet in April 2019, after an arbitrator, hired by the union for ballet dancers, the American Guild of Musical Artists, handed down a ruling.
The civil suit Waterbury filed against New York City Ballet, as well as Finlay, Ramasar and Catazaro and others in State Supreme Court in Manhattan is still ongoing. The defendants have filed motions to dismiss.
Ramasar's casting in "West Side Story," which is produced by Scott Rudin, Barry Diller and David Geffin and directed by Ivo van Hove, was announced in July 2019. He also starred in the Rudin and Diller-produced "Carousel" from February 2018 through September 2018.
Asked for comment on the protests against Ramasar, Rick Miramontez, a spokesperson for "West Side Story," sent a statement of support of the actor to Broadway News.
"The incident that occurred while Amar Ramasar was employed by New York City Ballet was addressed by NYCB and Mr. Ramasar's union in a formal arbitration process. This process concluded in April 2019 with the arbitrator mandating the reinstatement of Mr. Ramasar into New York City Ballet. Mr. Ramasar remains a member in good standing of Actors Equity Association, the Broadway performers' Union. We are aligned with Actors Equity in its support of Mr. Ramasar's employment eligibility and his appearance in 'West Side Story,'" Miramontez said.
In response to the statement, Brandon Lorenz, communications director for Actors' Equity, said the union had not taken part in the hiring practice.
"Actors' Equity does not make hiring suggestions, recommendations, or hiring decisions and did not make any hiring suggestions regarding any member of the West Side Story company. As is customary, Actors' Equity had no awareness of casting decisions for West Side Story before the cast was publicly announced. Equity did not communicate 'support' to the employer about any members of the company as part of the hiring process," Lorenz said.
Lorenz also pointed to Equity's recently launched hotline, in which union members can confidentially report harassment or other unsafe work conditions.
On Friday evening, a group of about 10 protesters, comprised of New York high schoolers involved in performing arts as well as working artists, stood in front of the theater holding signs that read "We stand with Alexandra Waterbury" and "Keep predators off the stage."
The protesters stood largely silently, but then answered questions about the protest as patrons in front of the theater approached.
Paige Levy, a senior at LaGuardia High School in Manhattan, had organized the protest after she became frustrated at a lack of action being taken against Ramasar. Levy, who is currently applying to university musical theater programs, noted that she was moved to organize as an aspiring professional in the field.
"The idea of entering into a career where a man can do these kinds of actions and say these kinds of things and get rewarded with a lead in a Broadway show is very disheartening, as a young performer and as a woman," Levy said.
When told about the protests, Waterbury said she appreciated the support and the fact that the protesters were putting thought into action. She plans to join them in the future.
"This is a horrible situation that sends the wrong message to society; victims are silenced and are made to think no one will listen if they come forward, and it sends the message that abusers can be abusers and not be held accountable. But I have hope and believe that our generation can and will create change," Waterbury wrote in a message to Broadway News.
Friday night was the first night of protests led by Levy. She plans to organize a weekly protest until change is enacted or until another means of speaking out is proven more effective. For Levy, change means removing Ramasar from the cast.
"I'm hoping that the spirit of #MeToo that has sort of permeated through arts and our culture can continue through this protest and make change here as it has in other places," Levy said. "The real goal is just for accountability and also letting people know that women's voices can't be ignored as they have in the past."
The revival began previews at the Broadway Theatre on Dec. 10, 2019 and is slated to open on Feb. 20.
Separate from the protests, an online petition calling for the removal of Ramasar from the cast has gained more than 22,000 signatures.
Many of the protesters had found out about the event through Levy's social media post, which was shared online by Waterbury.
Erica Jane Hughes and Jennifer Arfsten, both musical theater professionals who live in New York, grabbed signs Friday evening declaring their support for Waterbury. Hughes and Arfsten expressed disappointment that the production had hired Ramasar and in so doing had left the other cast members open to backlash.
"We're not connected in any way to Alexandra, just insofar as every woman understands how this feels, and we don't think it's acceptable within our community," Arfsten said. "Everyone that we talked to, male or female, doesn't quite understand how there are good people in the world striving every day to go to auditions, but the people that are on Broadway are the ones who have proven themselves to be inappropriate."