Hundreds of artists, students and activists gathered outside Bryant Park Saturday to demand racial equity on Broadway and within the theater industry at large.
This is the second protest in recent weeks that has called on Broadway to provide greater opportunity for and protection of members who are Black, Indigenous and people of color. Speakers at the Broadway for Racial Justice March, including "Tina" star Adrienne Warren, voiced concerns about the lack of inclusion in the industry, as well as optimism at the activism emerging within the community.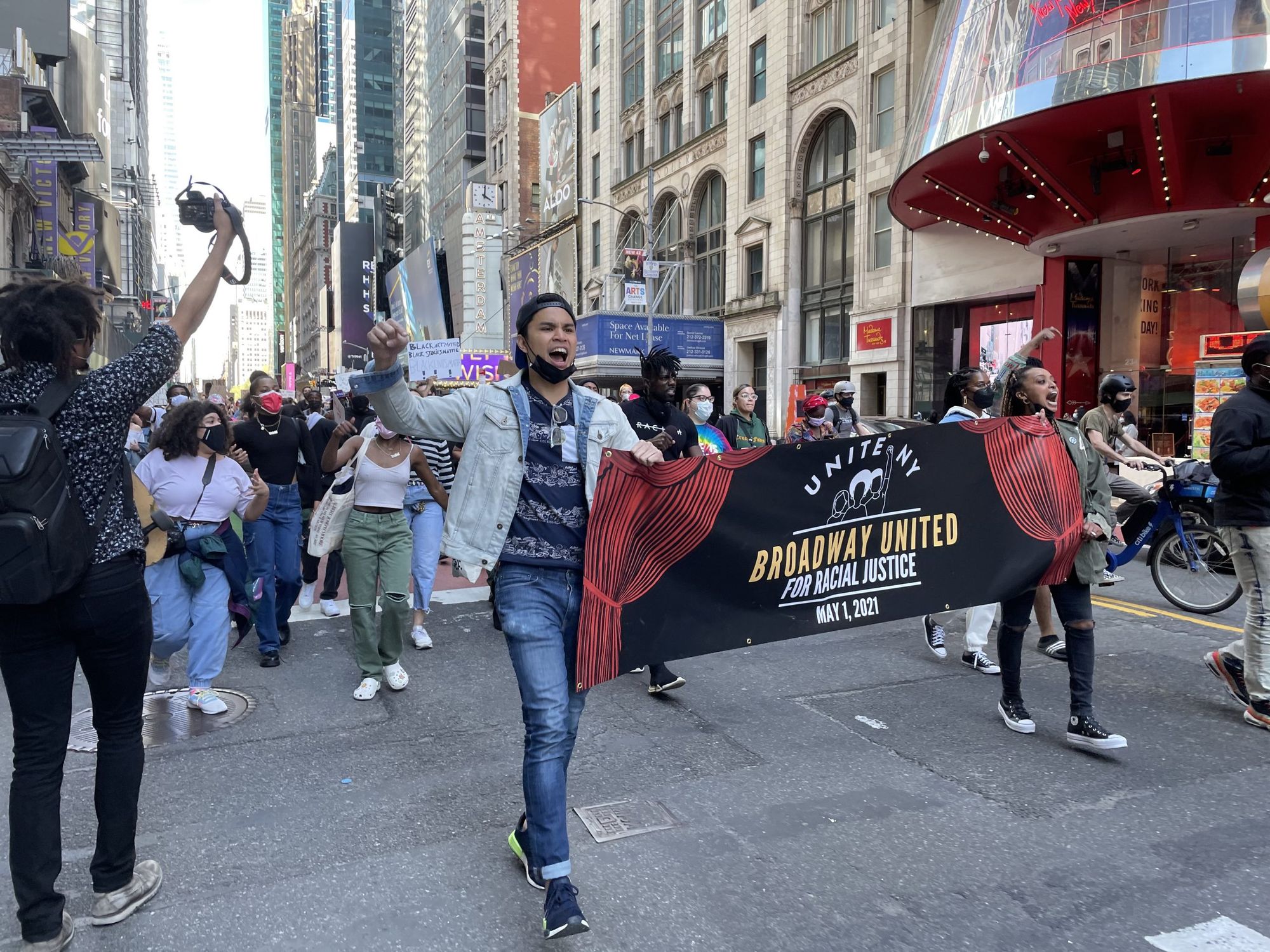 Standing on the steps of the New York Public Library, Warren urged leading actors to insist on contract riders stating that they will not work in an environment where everyone does not feel safe.
"I ain't going anywhere, but I'm not signing my name on any contract until Broadway communicates with this community," Warren said.
Warren, a co-founder of the Broadway Advocacy Coalition, said she is tired of continually needing to advocate for equity on Broadway.
"I've wanted to be here since I was six years old, and I'm not ashamed to say that. I'm proud of it. Because I loved you — and you're breaking my heart," she said.
Her statement follows the recent announcement of actor Karen Olivo, who said she will not return to her role as Satine in "Moulin Rouge!" in protest of injustice in the industry. Warren did not say she had plans to leave "Tina."
The Broadway United for Racial Justice protest was an initiative of UniteNY, an organization that has held racial justice protests since summer 2020.
After the demonstration near Bryant Park, the protest moved through the theater district, with stops in Shubert Alley and outside the Gershwin Theatre, two high-profile Broadway locales affiliated with white theater owners, and ended at the Martin Luther King Jr. Educational Campus near Lincoln Square. Attendees held up signs with phrases such as "Racism has no role on Broadway" and "Black theatre matters," while Broadway actor Rodrick Covington, an organizer of the march, led the crowd in almost nonstop chants to the beat of drums, tambourines and an upright bass.
The organizers put forward four demands for the Broadway industry: equal-opportunity employment at all levels, a zero-tolerance policy for racist micro- and macro-aggressions, more initiatives to support BIPOC theater artists and an industry-wide "amplification of more voices of color," according to a press statement.
The protest came about a week after the March on Broadway, a demonstration that called for the removal of Scott Rudin from the Broadway League — Rudin resigned days later on April 24 — as well as greater transparency from Actors' Equity. The two marches were not affiliated, but the Broadway United for Racial Justice organizers said their protest aimed to build on the momentum of the April 22 march.
"The purpose of this is really to unite all of Broadway whether it's musicians, directors, costumers, whatever, so that it reflects what our world is today," Covington said. "I believe that Broadway is made up of leaders, and we get to be the leaders in this fight to end racism."
Additional speakers at the march included stage manager Cody Renard Richard, actor and Artists for Economic Transparency co-founder Eden Espinosa. Broadway set and costume designer Clint Ramos called for Black, Indigenous and people of color to fill at least half of all jobs on Broadway in his speech, a goal that was echoed by several other speakers.
"So many of us work so hard for the theater, but the theater does not always work for us," said Richard, who launched a scholarship program for BIPOC artists seeking backstage careers.
There were moments of celebration at the protest, including cheers from the crowd at mentions of the recent passage of the Black Theatre Matters bill by Actors' Equity. The bill, which was crafted by Davon Williams, another speaker at the march, called for increased transparency from the union, increased compensation to actors for special skills such as puppetry and expanded union eligibility to cruise ship workers, teaching artists, drag performers and Spanish-speaking theaters.
However, the general sentiment among the crowd was that the call for equity on Broadway did not begin and end with this protest.
"Broadway, this is a turning point," Warren said. "It's going to turn with or without you."