A group of about 300 actors and activists marched down Broadway Thursday to protest producer Scott Rudin and to call for greater protection and transparency from Actors' Equity.
The march, organized by Actors' Equity members Nattalyee Randall and Courtney Daniels, put forth six demands, which include the removal of Rudin from the Broadway League, as well as greater protection of members who are Black, Indigenous or people of color, a report on how Actors' Equity spent 2019-2020 dues and a diversification of leadership within the union. The demands were underlined by a general sense of frustration with the union, which has been growing over the past year and gaining more traction with reopening on the horizon.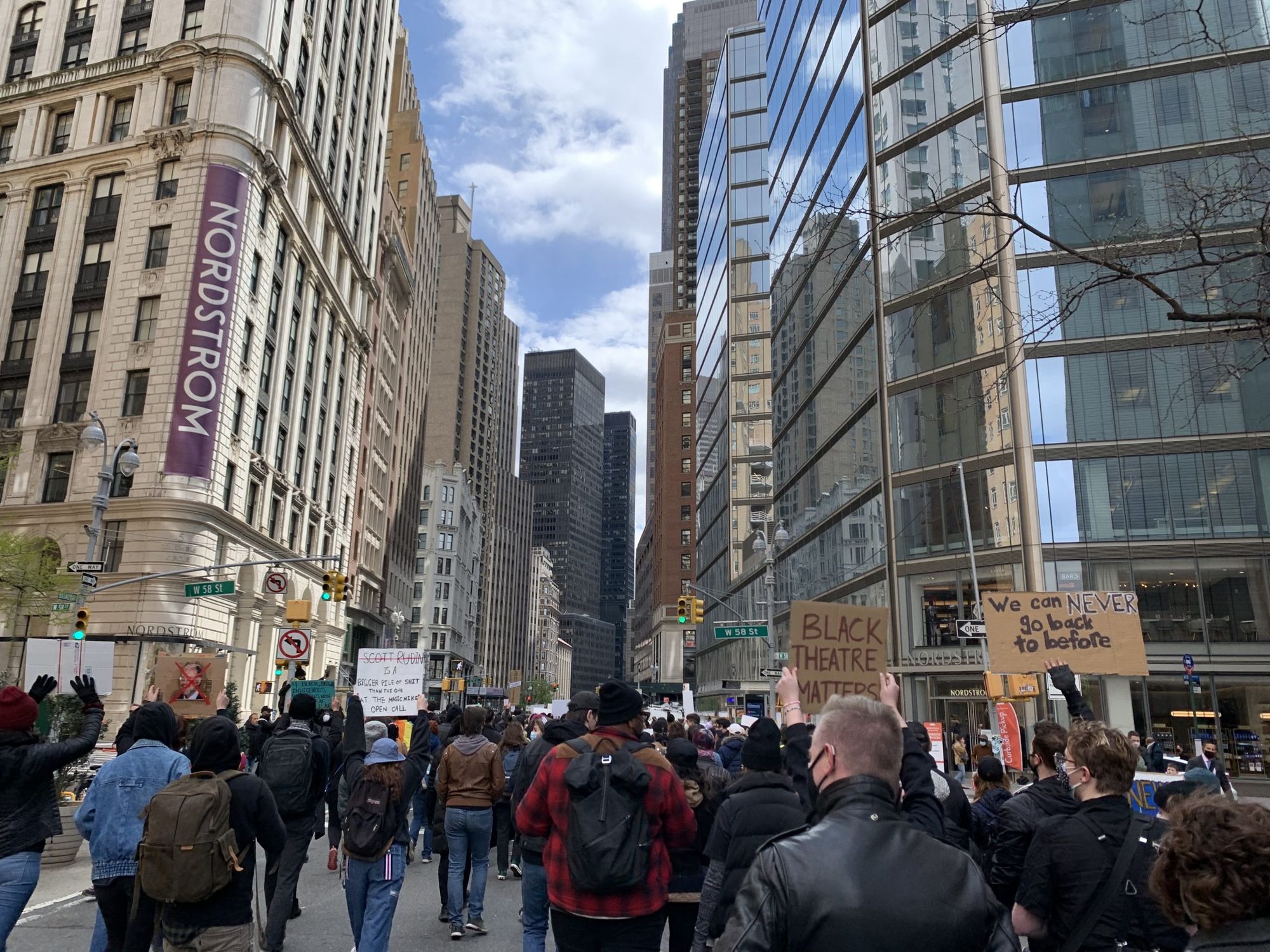 "We have a union that hasn't been working for us in some time," Daniels said. "We are tired of town halls."
After a demonstration in Columbus Circle, the march moved down Broadway to the Actors' Equity office in Times Square, before ending at Washington Square Park.
As they walked, marchers held signs such reading "No News, No Dues," referencing a social media campaign to withhold dues until the union provides greater transparency on its spending, as well as several featuring musical theater references like "We can never go back to before." Rudin's name made frequent appearances on signs and in chants, such as "Hey, hey, ho ho. Scott Rudin has got to go!"
The calls for Rudin's removal come after the publication of a Hollywood Reporter article detailing allegations of workplace harassment and intimidation at Rudin's office. Rudin has since said he will "step back" from Broadway, as well as film producing. The Broadway League has declined to comment on calls to remove Rudin from the League.
Actors' Equity issued a statement Thursday saying the union is bound by its collective bargaining agreements.
"Unless or until Scott Rudin's status as a Broadway League producer changes, our path is to make sure his productions follow the language in our collective bargaining agreements – which require a safe workplace and prohibit bullying and discrimination," Equity said in a statement. "We can and will take action if you call and report bullying, discrimination or safety issues with any workplace."
In response to the march's other demands, a spokesperson for Actors' Equity said the union has been working on its equity and inclusion efforts as part of an internal reorganization and is "devoted to improvements for all marginalized groups, including transgender and nonbinary members and members with disabilities" within the larger community.
And on Wednesday, the union announced the appointment of Wydetta Carter as its new first vice president, marking the first Black person in leadership at the union in more than 40 years.  The union said it will also release more information on its spending on diversity and inclusion programs.
Speakers at the march included Eden Espinosa, co-founder of the organization Artists for Economic Transparency, alongside Karen Olivo; Brandon Michael Nase, founder of Broadway for Racial Justice, actor and disability advocate Ryan Haddad and "Mean Girls" actor Ashley De La Rosa. The speakers addressed issues of racism within the industry and the need for the community to move past performative support and into action.
"There is a culture of white supremacy that is built into this industry and into our world that tells us that we can't," De La Rosa said. "This must change before we return to work."
Many of the protesters Thursday were Actors' Equity members who had grown frustrated with the union during the pandemic, or attended to march in solidarity with the concerns put forward by other members.
"I wanted to learn more and I want to support because I think there's such a part of our business and such a community of people that don't feel heard and don't feel safe," said "An American in Paris" actor Max von Essen.
Eyeing the hundreds of theater workers and fans filling Columbus Circle — and later streaming down the streets of New York — Espinosa said she felt "lifted and inspired."
"This is the first day I have not felt heartbroken," Espinosa told the crowd.