Good morning, and wecome to Broadway News' Broadway Review by Brittani Samuel — our overview of reactions, recommendations and information tied to last night's Broadway opening of "Spamalot."
RUNDOWN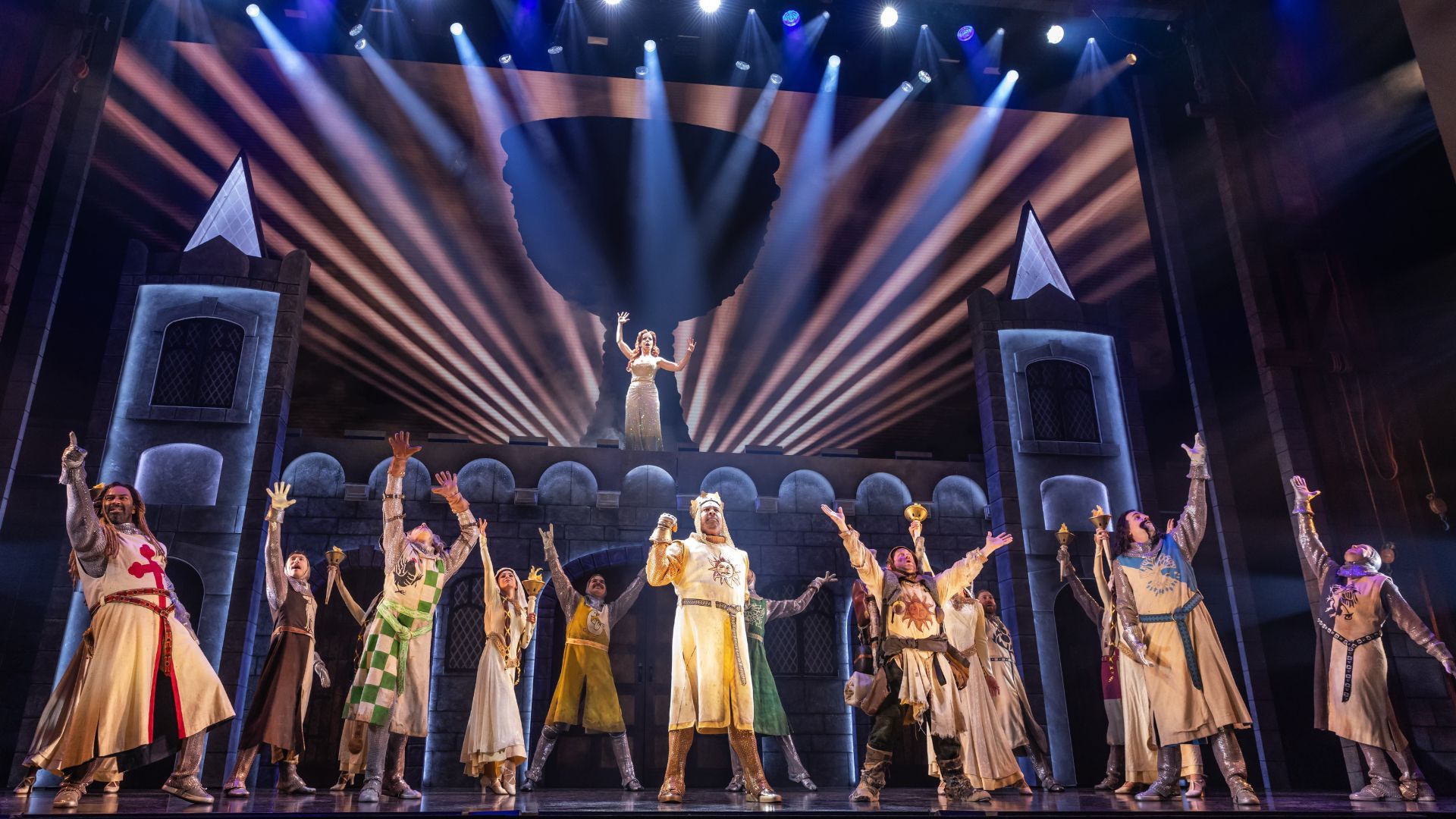 There is something liberating for both artists and audiences about a Broadway show that refuses, even for a moment, to take itself seriously. The mission becomes plain: Our objective is joviality. "Spamalot" is the prime example. In this new staging, director-choreographer Josh Rhodes squeezes every drop of talent out of his all-star cast of comedy heavy hitters. Actors — especially the dextrous Ethan Slater, who pulls off a litany of roles in his track — prance, tumble and grovel across the St. James stage, hurling their bodies and modulating their voices to pry every laugh possible from Eric Idle's book. Idle keeps a grand chunk of the topsy-turvy dialogue and irreverent lyrics that won him and his fellow creators a Tony Award for Best Musical in 2005, but coyly adds some satirical jabs at today's society. The show also carries the same self-awareness of its pitfalls, most notably the frivolous care of the sole female lead: the Lady of the Lake (Leslie Rodriguez Kritzer). Kritzer, a vocal stuntwoman, chomps through her standout number "Diva's Lament" — which calls out the show's writers — while sparkling as bright as the "Renaissance Tour"-evoking costumes that designer Jen Caprio drapes her in. Idle garnishes the show with a sprig of a political "point." James Monroe Iglehart's King Arthur (however warmhearted) is a dotish monarch who can't accomplish anything alone. But, ultimately, the show is a spoof of its own form, mimicking other famous musicals and reiterating the underlying message found within all of them: "Be yourself." But trust me, you'll barely catch wind of any sincerity between the firing squad of hilarious antics and the flurry of large-scale scenic changes. You'll be too busy stumbling out of the St. James — jaw aching, mind spinning as if you've been shot out of a cannon. Or, more likely, a catapult.
---
REMINDERS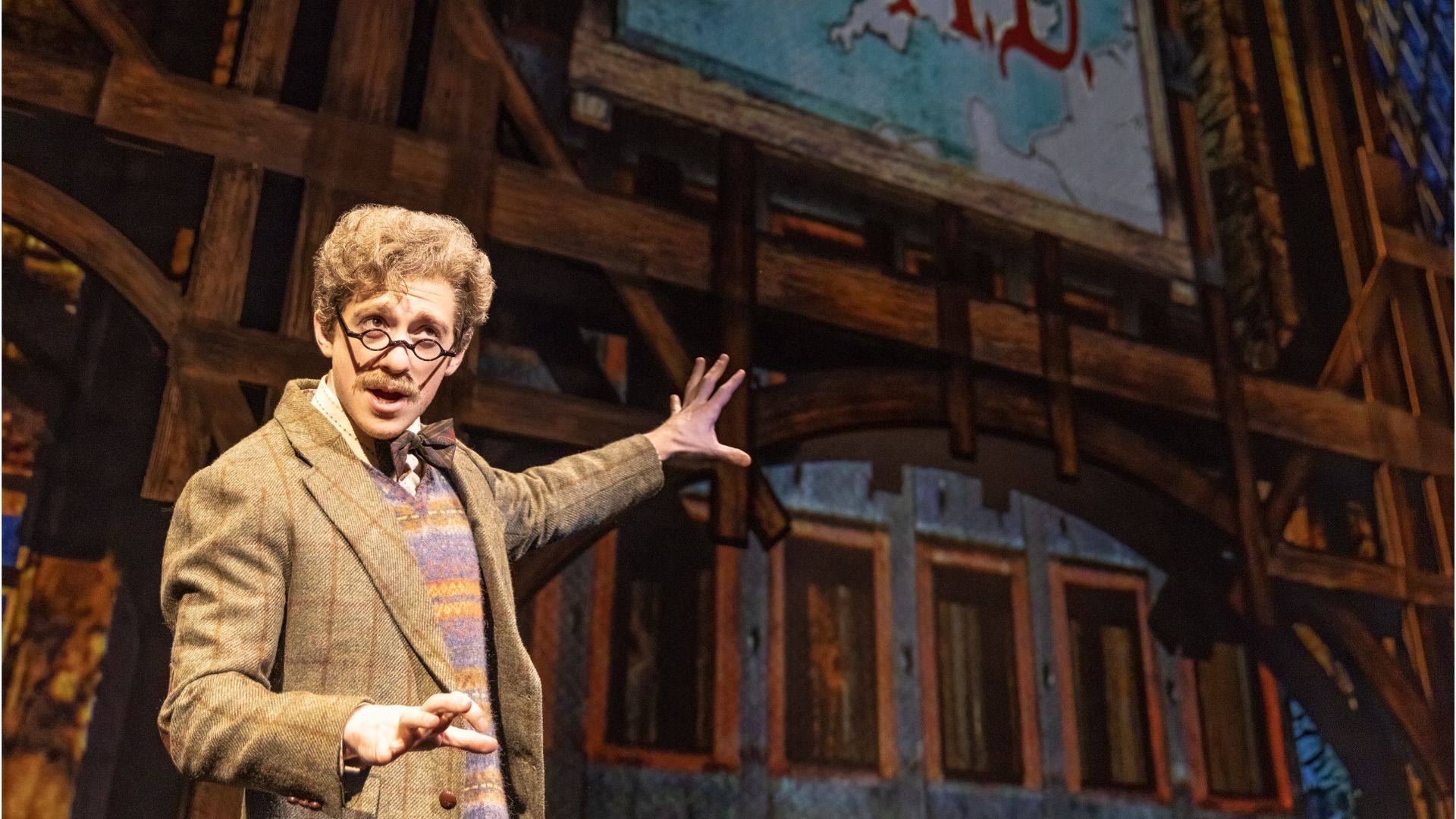 BACKGROUND
"Spamalot" is a riff on the 1975 film "Monty Python and the Holy Grail," one in a series of projects created by the loveable British comedy troupe, the Pythons. The group — made up of genre titans Graham Chapman, John Cleese, Terry Gilliam, Eric Idle, Terry Jones and Michael Palin — became massive clowns of their generation while performing on British television, but cemented their global success with the theatrical adaptation we know today as "Spamalot." The original Broadway production debuted in 2005, won three Tony Awards and paved the way for a large-scale mounting at the Kennedy Center as part of its Broadway Center Stage series in spring 2023. That staging, also choreographed and directed by Rhodes, transferred to Broadway, so it boasts many of the same cast members and designers working on the show in New York City today.
PLOT
A plot is oft considered to be a chronological sequence of narrative events, so the term feels like a generous description of what "Spamalot" follows. The show opens in 932 A.D. England where King Arthur sets out to round up a group of noble knights. As Idle's lyrics tell us plainly, England is in turmoil — disease, dissent and deprivation run amok. Arthur's goal to bring order is quickly sideswept, however, by a debaucherous visit to Camelot (Idle's garish version of the Vegas strip), a quest assigned by God to find a Holy Grail, looney bands of opposing knights and, oh yeah, Arthur's own wedding. Sequence quickly flies off the rails to make room for slapstick-riddled satire and Monty Python staples. Throughout both acts, characters mockingly reference other notable musicals (watch out "Wicked," "West Side Story," "The Phantom of the Opera"), which makes it all the more meta-theatrically delicious when the show culminates in the Lady of the Lake revealing to King Arthur that they are all also in a Broadway show.
INFO
Length: 2 hours and 20 minutes; one 15 minute intermission
Previews: October 31, 2023
Opening: November 16, 2023
Theater: St. James Theatre
---
REACTIONS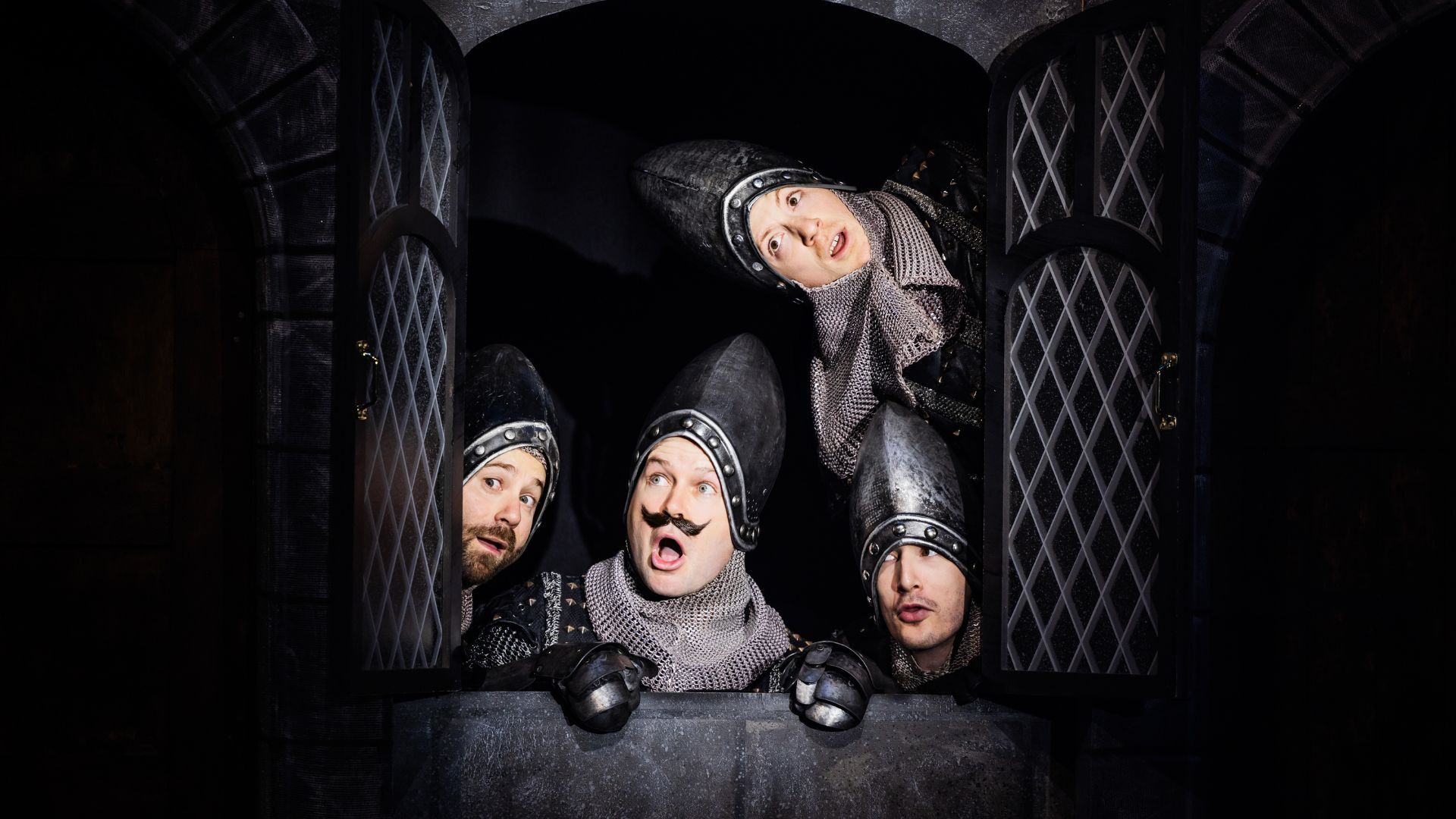 PRODUCTION: THE KNIGHTS WHO SAY "NOSTALGIA"
"Went to see @SpamalotBway on Broadway. Good old fashioned fun. An excellent cast who have all managed to create their own special thing via their respective characters. Magical. Go see it. We all get to sing 'Always look on the bright… ' at the end. So glad this thing exists." —@LilibetRenan, audience member on X
"I went with my dad today to see Spamalot! It was my first time watching & enjoying a play on Broadway in 6 years! It was incredibly hilarious & we both enjoyed it more than we expected! The cast was marvelously talented & they gave a truly wonderful performance!" —@Tulzek_a_scalie, audience member on X
"Director and choreographer Josh Rhodes' production…is more frenzied regurgitation than reinvention, opting at every turn for showy bells and whistles over original interpretation. The result suggests insecurity about whether the show holds up when what we need is an argument that it does." —Naveen Kumar, Variety
PERFORMANCES: A CAST OF COMEDIC ALL-STARS
"I'm pleased to report that the Broadway cast of Spamalot is ABSOLUTELY EATING IT!" —@oliviamaryjoan, audience member on X
"Finally experienced this irl and now I get it. Sara Ramirez, Hannah Waddingham, and now Leslie Rodriguez Kritzer: perfection!" —@sauerkraut27, audience member on X
"The other strength of 'Spamalot' is that it gives every one of its principal cast members a chance to shine. And shine they do. Ethan Slater proves himself one of the best physical comedians on Broadway right now in a variety of bit parts, making each one feel larger than life. Michael Urie makes a meal of the showstopping 'You Won't Succeed on Broadway' as Sir Robin, and Christopher Fitzgerald does the same with 'Always Look on the Bright Side of Life' as Patsy, though his best moment is his silent comedic acting in the background of Arthur's 'I'm All Alone.'" —Gillian Russo, New York Theatre Guide
DESIGN: THE DARK AGES NEVER LOOKED SO DAZZLING
"All the dancing, singing and questing unfolds on a clever, attractive set designed by Paul Tate dePoo III, whose projections — many seemingly inspired by Terry Gilliam's instantly recognizable Python style of animation — play a crucial role in the production. Some of the effects are of a decidedly (and intentionally) DIY nature ... but all work terrifically within the show's self-aware approach." —Greg Evans, Deadline

"Critic's Pick…And even this mostly excellent production betrays a faint odor of mothballs, especially in the projection-heavy scenic design of Paul Tate dePoo III, so dependent on the feel of Terry Gilliam's original animations. The key to the comedy is not after all replication but individuation." —Jesse Green, New York Times
"The cast yuks it up on Paul Tate dePoo III's lackluster set that relies on oddly dreary projections to change up locations. 'Monty Python and the Holy Grail,' of course, was not a big-budget project and 'Spamalot' needn't be either. But if you can't afford to be spectacular, like Mike Nichols' original production was, then make the design clever and funny. Nope. This one settles for mere functionality." —Johnny Oleksinski, New York Post
CELEBS LOVE SPAM…A LOT!
"Last night amongst the standing ovation from an audience singing 'Always Look on the Bright Side,' I felt thrilled, happy, & proud of this amazing 'Spamalot' cast & production & filled with so many emotions I had tears rolling down my cheeks. I was so happy to be alive to see it." —@EricIdle, actor, comedian, book writer of a certain Middle Ages-set musical
"Oh what an opening night at @spamalotbway 👑 Hilarious cast with its side splitting humor from beginning to end …and at the end I got chosen to get my own grail 🏆 by my favs that I adore" —@Vanessawilliamsofficial, actor and King Arthur Award winner
"When you look on the bright side of life, this is what you'll see 🤩" —@SPAMbrand, the world's most famous processed pork
---
RECOMMENDATIONS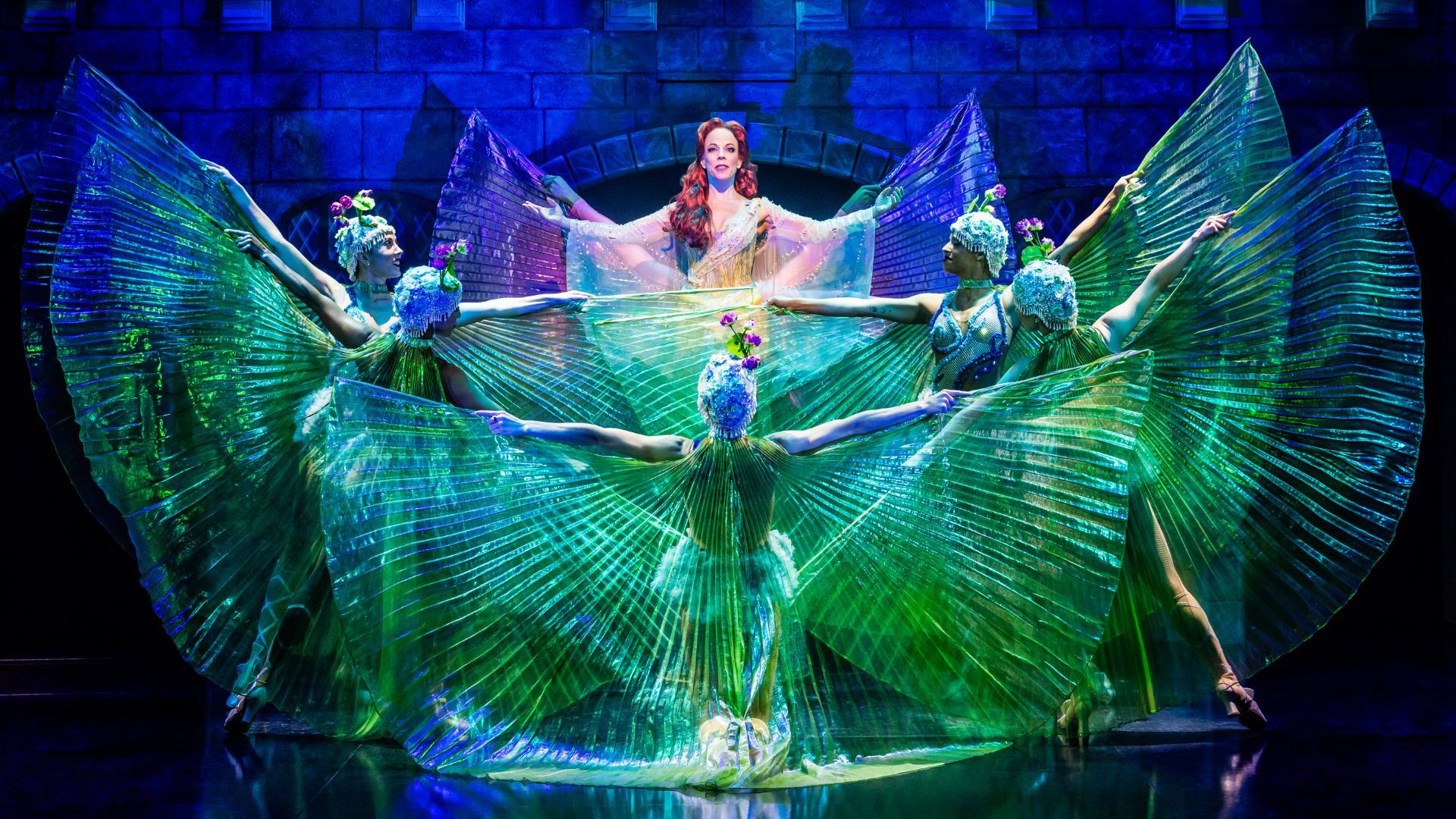 Shows that are as proud of their inanity as "Spamalot" make great entry points for people who have not been exposed to musical theater. The hyper-broad comedy resonates across gender, ethnicity, geography and every other identifier one can imagine: Silliness is universal. Similar shows that have this sweeping appeal are "Gutenberg! The Musical!" "The Producers" and "Hairspray," even though the latter two take sharper aim at societal issues. Fans of solid, physical comedy troupes like Mischief Theater (who created "The Play That Goes Wrong" and "Peter Pan Goes Wrong") will also appreciate the fraternity of foolishness radiating from the St. James.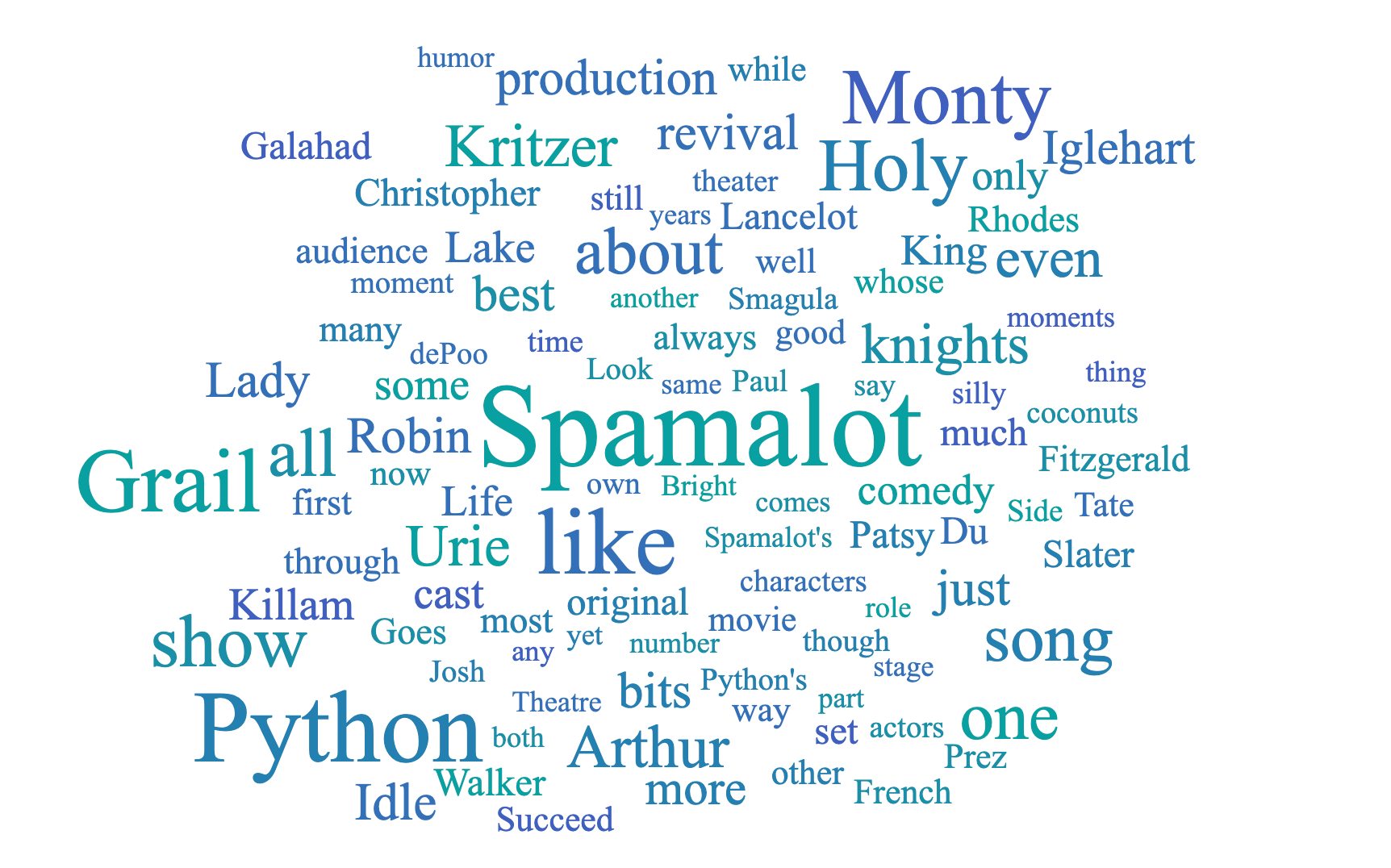 ---
CREDITS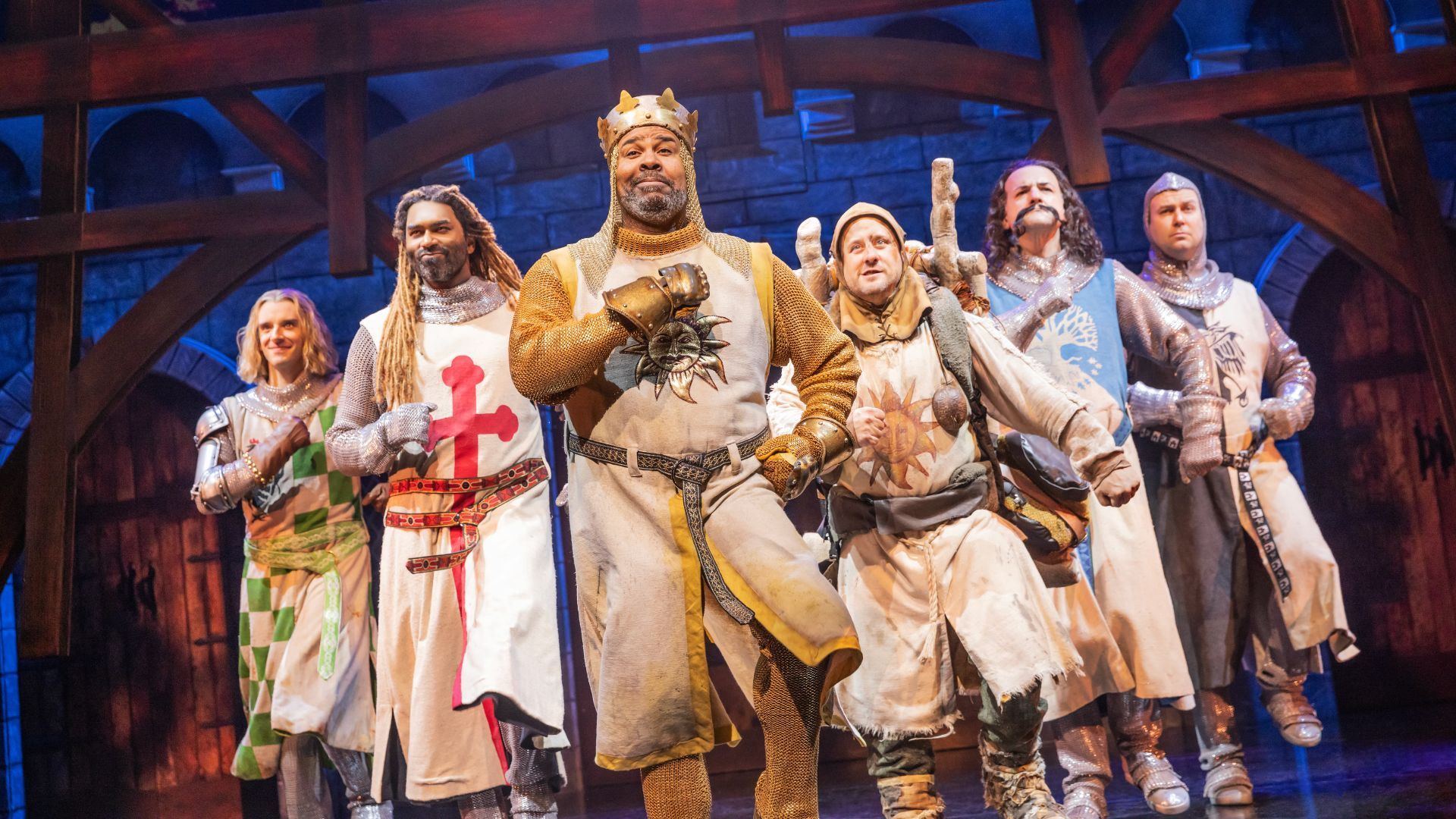 Cast:
Christopher Fitzgerald — Mayor, Patsy, Guard 2
James Monroe Iglehart — King Arthur
Taran Killam — Sir Lancelot, the French Taunter, Knight of Ni, Tim the Enchanter
Leslie Rodriguez Kritzer — The Lady of the Lake
Ethan Slater — Historian, Not Dead Fred, Baby, Nun, Mime, Minstrel, Prince Herbert, Bunny
Jimmy Smagula — Dennis' Mother, Sir Bedevere, Concorde
Michael Urie — Sir Robin, Guard 1, Brother Maynard
Nik Walker — Sir Dennis Galahad, the Black Knight, Prince Herbert's Father
Daniel Beeman — Sir Not Appearing, ensemble, understudy for Sir Robin
Maria Briggs — ensemble
Gabriella Enriquez — ensemble, understudy for the Lady of the Lake
Michael Fatica — French Guard, Minstrel, ensemble, understudy for Sir Lancelot, Historian
Denis Lambert — Sir Bors, ensemble, understudy for King Arthur, Sir Dennis Galahad
Shina Ann Morris — ensemble
Kaylee Olson — Minstrel, ensemble
Kristin Piro — ensemble
Drew Redington — French Guard, ensemble, understudy for Sir Bedevere, Patsy
Tyler Roberts — ensemble
Anju Cloud — swing
Darrell T. Joe — swing
Lily Kaufmann — swing, understudy for the Lady of the Lake
Charlie Sutton — swing
David Josefsberg — standby for Sir Lancelot, Sir Robin, Patsy, Historian
Graham Stevens — standby for King Arthur, Sir Dennis Galahad, Sir Lancelot, Sir Bedevere)
Steve Martin - voice of God (recorded)
Creative:
Written by Eric Idle
Music by John Du Prez and Eric Idle
Lyrics by Eric Idle
Based on the original screenplay for "Monty Python and the Holy Grail" by Graham Chapman, John Cleese, Terry Gilliam, Eric Idle, Terry Jones and Michael Palin
Directed and choreographed by Josh Rhodes
Arrangements by Glen Kelly
Orchestrations by Larry Hochman
Musical direction by John Bell
Scenic and projection design by Paul Tate dePoo III
Costume design by Jen Caprio
Lighting design by Cory Pattak
Sound design by Kai Harada and Haley Parcher
Hair and wig design by Tom Watson
Production stage management by Matthew Lacey
Produced by
Jeffrey Finn
Roy Furman
Bob Boyett
The Shubert Organization (Robert E. Wankel, chairman and CEO; Elliot Greene, chief operating officer; Charles Flateman, executive vice president)
Jujamcyn Theaters / Ambassador Theatre Group
Steve Traxler
Mary Lu Roffe
Sandy Robertson
Cue to Cue Productions
Independent Presenters Network
Stephanie P. McClelland
Peter May
The Araca Group
Garmar Cohen
Ergo Entertainment
John Gore Organization
Simon Gutterman
James L. Nederlander
Hornos Moellenberg
Nancy Pittelman
One Queen Two Knights
Adam Riemer
Iris Smith
Theatrical Rights Worldwide and Ed Walson
Produced in association with the John F. Kennedy Center for the Performing Arts (David M. Rubenstein, chairman; Deborah F. Rutter, president)