On Thursday, "Slave Play" garnered 12 Tony Award nominations and became the most Tony-nominated play in history.
The play, which ran on Broadway in fall 2019, broke barriers in terms of its subject matter, which examined the role of race and sex in interracial relationships, as well as with its audience engagement. In addition to its confrontational stance toward the audience, "Slave Play" offered discounted tickets throughout its run and held "Black Out" performances in which the theater was filled with Black audience members.
Leading these efforts was playwright Jeremy O. Harris, who made his Broadway debut with the play and has since written a screenplay and signed a deal with HBO, in which he was given a fund to commission and produce theatrical works, as well as develop a pilot based on his Yale Drama graduate thesis.
Harris spoke with Broadway News from Naples, Italy, where he's been writing and producing theatrical works, about the importance of having his play recognized and what theaters should be doing during lockdown.
Edited excerpts:
Broadway News: What was your reaction to having the most Tony-nominated play in history?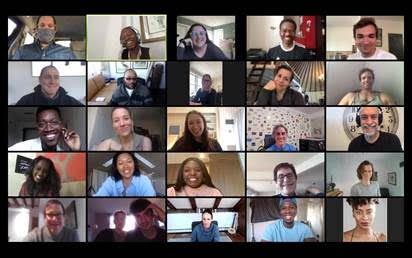 Harris: Right before the Tony nominations, we did a Zoom call with the cast, crew, producers and director Robert O'Hara. We said no matter what happened today, we already had succeeded in the way that we wanted to succeed because it was improbable that this play would even happen. This is the play I wrote for a basement theater at Yale. And I never, ever had aspirations that it would get to Broadway. In fact, it was writing it against the idea that it would go to Broadway. I was writing against commercial impulses.
It hit me like the greatest orgasm one could ever have. I was so honored to know that not only did the community really like this play, but also to have them say, this is a play we want to be remembered in history.
BN: How does it feel to be nominated with theaters shut down and in the middle of a pandemic?
Harris: It's deeply strange. So many of my friends are out of work, and are going to be out of work for a very long time unless they have film and television jobs. And no one in our government cares enough about our community to actually do anything about the fact that people's livelihoods are wildly at stake. So it makes me very sad. But all I can do is take this moment and suckle from it what little joy there is.
But I also hope that the things that are happening right now in the community might bring more eyes on it. I hope a lot of people write about the fact that right now there's a Black front-runner for the Tony who wasn't alive when the last Black play won ["Fences" in 1987].
BN: How did you feel about the Broadway community's reception to 'Slave Play?'
Harris: There were obviously people that were rooting for me really hard in the community, and I felt them rooting for me. But there were also people who antagonized my work, and I think that they felt like I was antagonizing them.
In retrospect, it was really healthy. The fury, the frustration, the antagonism brought about a moment where a lot of the world looked at our community, and looked at my weird little play and started asking questions about the function of Black people in the theater, who should be in the audience, how they should be invited to the audience, and if people should be able to text in a theater.
BN: What do you think Broadway should be doing during the shutdown?
Harris: I did these grants with the Bushwick Starr and gave out $500 to 170 playwrights, which was amazing. I want more people to do things like that, because I used all the money from "Slave Play" licensing to do that, and I know there are people who have more money than me.
I'm also currently producing a bunch of plays virtually right now, "Circle Jerk Live," and also Will Arbery's "Heroes of Fourth Turning." Just because you can't do it in a theater with 200 other people doesn't mean there's not some way, somehow you can do it. And I'm not saying they always have to happen over Zoom. I don't love Zoom either, but we also are all watching our TVs.
And then lastly, I hope that people are really thinking about how to bring the fury, frustration and depression they're feeling right now to the people in charge. I hope that we start telling the stories that help leaders see and recognize with empathy how they are not supporting us as we need to be supported right now.
BN: What have you been working on?
Harris: I'm working on a new play, and I'm also working on producing a new play that I want to take to Broadway next year. It's a revival of one of my favorite plays.
I've also got some screenplays, but my producorial bit has been really overflowing. Using the money I got from HBO, I produced two plays. I just commissioned a new adaptation from Miranda Haymon, which I'm really excited about, and I'm working with New York Theatre Workshop on something we're about to announce using $100,000 from that money in a way that is going to drastically support some new work.
BN: What is your plan for the Tonys?
Harris: I spoke to Rihanna when we were working on the play, and I told her I really wanted her to be my date. And she was like, absolutely. And my other dates, I wanted to be my mom and my high school drama teacher. So I think that wherever I am, we'll be there doing that.
One of my favorite designers has been designing me an outfit for the Tonys. So I'm gonna be getting dolled up and ready to wear that because, you know, fashion is very important to me.