The click-clack of unseen tap shoes echoed throughout the theater. The lights dimmed. The audience hushed. Dancer Savion Glover walked on the stage and was greeted by the first entrance applause on Broadway in more than a year.
On Saturday, the St. James Theatre became the first Broadway theater to open its doors after the shutdown for a NY PopsUp event featuring the comic stylings of Nathan Lane and a tap dance and musical number performed by Glover. The audience was composed of 150 people, largely frontline workers and volunteers with The Actors Fund and Broadway Cares/Equity Fights AIDS, who were masked, socially distant, either fully vaccinated or COVID-19 tested and eager for the return of live theater.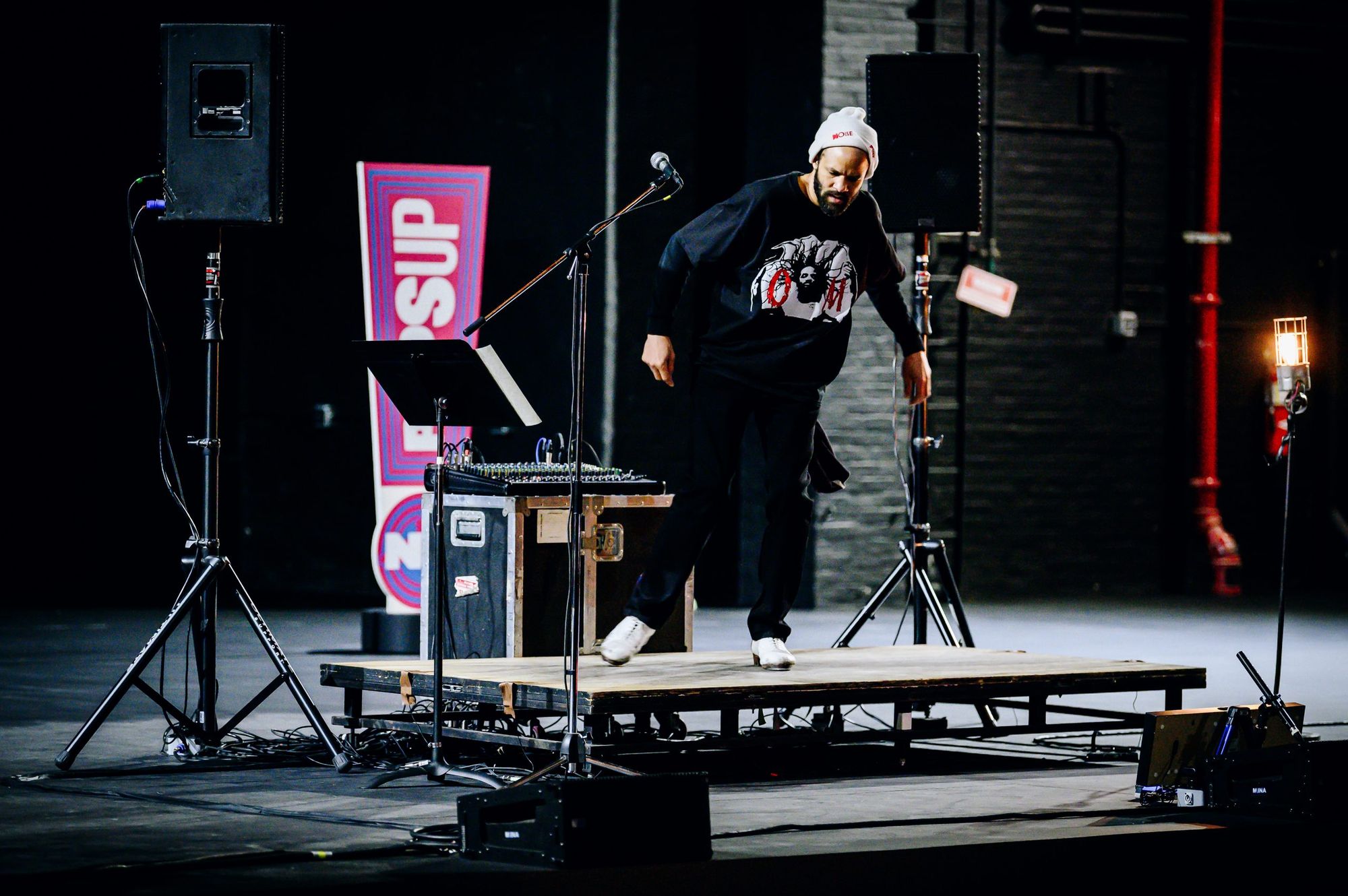 The event was made possible by Gov. Cuomo's declaration that, starting April 2, indoor theaters are allowed to host up to 150 attendees, so long as the audience members receive negative COVID-19 tests or show proof of a complete vaccination series.
Cuomo's announcement has prompted a few Off-Broadway shows to open, including "Blindness," which began performances Friday at the Daryl Roth Theatre. However, Broadway leaders continue to target the fall for reopening, with the hope of welcoming back audiences at a higher capacity.
The indoor NY PopsUp events, which are produced by Scott Rudin and Jane Rosenthal in partnership with the state government, are intended to shape safety protocols for Broadway's return. There are nine more NY PopsUp events planned at Broadway theaters over the next nine weeks. The Music Box Theatre had previously been announced as the first participating venue.
The 1,700 seat St. James Theatre has an updated ventilation system — one of the safety measures required by Actors' Equity — thanks to a 2017 renovation for "Frozen," which has since departed the theater. MERV 13 air filters, seen as a best practice in air filtration, were installed ahead of the performance.
Before entering the theater, attendees were required to provide proof of a negative PCR COVID-19 test taken within 72 hours of the performance or a rapid test taken that day. Verification of a complete vaccination series was also accepted. In addition, attendees were required to show completion of a digital health questionnaire asking about recent COVID-19 symptoms as well as any exposure to the virus and submit information for contact tracing. The Jujamcyn ushers and other staff were required to test negative the day of the event.
Audience members were assigned staggered arrival times in the hour leading up to the 1 p.m. performance and seated at least six feet apart. Masks were required for the duration of the performance. Attendees who left during the performance were not allowed to re-enter. At the end of the show, ushers directed theatergoers to exit row by row.
The health questionnaire, as well as a digital ticket with a QR code, were hosted on the SeatGeek app, a company which recently formed a partnership with Jujamcyn Theaters, owner of the St. James. New York State's Excelsior Pass, which generates a QR code on its mobile app, could be used to show proof of vaccination or testing.
Saturday's event featured Glover, choreographer of "Shuffle Along" and "Bring in 'Da Noise, Bring in 'Da Funk," performing a tap number as he sang snippets of Broadway standards such as "Memory" and "I Hope I Get It," as well as musical nods to the industry.
"Scott Rudin asking me if I can sing/These are a few of my favorite things," Glover crooned.
Lane, who was last seen on Broadway in the 2019 production "Gary: A Sequel to Titus Adronicus," performed "Playbills," a new monologue by Paul Rudnick in which a theater fan's apartment is inundated by Hugh Jackman, Patti LuPone and Audra McDonald — all of whom are eager to perform.
The two performances were directed by Jerry Zaks, who was in attendance at the event alongside other theater industry leaders such as Jordan Roth, president of Jujamcyn Theaters.
"This is a first step in a long journey home, but sometimes a first step is a great leap. Today was a Broadway leap," Roth posted on Instagram.
For several attendees, the ability to see live theater again outweighed the hassle of the extra protocol. T.J. Larke, a special education teacher who volunteers with Broadway Cares, said he had "full-body chills" walking into a theater again. He found the check-in process Saturday to be fairly seamless.
"It's definitely a different way to experience theater, but at least we get to experience it," Larke said. "So I was happy with that."
The return of live events like this, as well as the expanded distribution of vaccines, is providing some hope to the performing arts community, said Dr. Jason Kindt, medical director at the Friedman Health Center for the Performing Arts and an attendee Saturday. In the past year, the health center, which treats industry members who do not have health insurance, has seen a marked increase in mental health issues, alongside a greater loss of insurance, he said. But now, the tides seem to be turning.
"There's a light at the end of the tunnel," Kindt said. "We're all hoping it's not a mirage."
Correction: A previous version of this article misspelled the last name of Dr. Jason Kindt. It has been corrected.